Was framed, says doc accused of sexual harassment in Fiji and backed by BHU V-C
Published on Sep 28, 2017 01:18 PM IST
BHU vice chancellor GC Tripathi attempted to secure a permanent tenure for Dr OP Upadhyay, who was tried in a Fiji court for sexually assaulting a 21-year-old, causing a stir.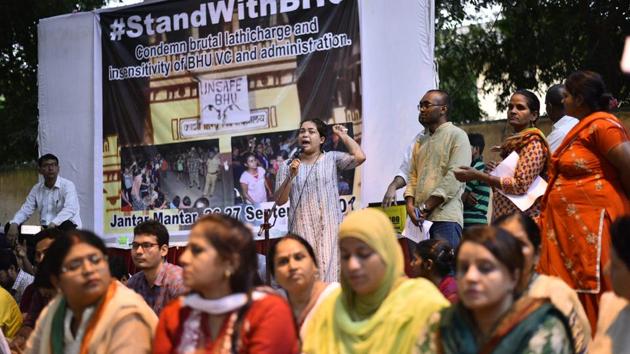 Hindustan Times, Varanasi |
HT Correspondent
A senior doctor at the BHU hospital has accepted he was tried for sexual harassment in Fiji but said he was framed as the woman wanted to extort money out of him.
An attempt by Banaras Hindu University vice chancellor GC Tripathi to secure a permanent tenure for Dr OP Upadhyay, the medical superintendent of Sir Sunderlal Hospital, created a stir as the university had last week witnessed student unrest over alleged sexual harassment of a hosteller.
At a meeting of the executive council on September 26 Tripathi proposed that Upadhyay, serving as the ad hoc medical superintendent, be regularised.
But an executive council member objected, saying Upadhyay had sexually harassed a 21-year-old woman when he was an adviser to the Fiji National University vice chancellor.
Tripathi, who is under immense pressure over his mishandling of the student protest and police crackdown that left a number of protesters, mostly women, injured, came under fire for overlooking the charges against Upadhyay.
Speaking to Hindustan Times on Wednesday, Upadhyay said, "In September 2012, allegation of sexual harassment was labelled against me by a 21-year-old girl as she wanted money and I denied complying with her demand."
He said he was tried by a Fiji court.
"The court indicted me and said my conduct and behaviour would be observed for three years and assessed," he said. The court said if his behaviour was found to be good and no such incident was repeated, "charges will be absolved," Upadhyay claimed.
The university said he could continue working but due to some family problem he returned to India in August 2013, he said.
The Indian Express, however, had a different version. In a report on Thursday, the newspaper said the Nasinu magistrate's court convicted Upadhyay of "indecent assault". His counsel challenged the order in 2014 but the high court of Fiji upheld the conviction.
Upadhyay said he had worked hard to improve facilities and had ensures that medicines were made available at the hospital, which had angered the drug lobby that blowing the issue out of proportion.
The executive council member who raised objection was once removed for misappropriation of funds, he alleged.
Upadhyay then went on to say Indian law says an indictment in foreign land won't have a bearing on a person's career unless it affected diplomatic relations.