Year after boiler blast, NTPC's Unchahar power plant set to reopen
Published on Nov 24, 2018 08:12 AM IST
The 500 MW unit of Unchahar thermal plant in Rae Bareli, the boiler of which exploded on November 1 last year, is ready for operation.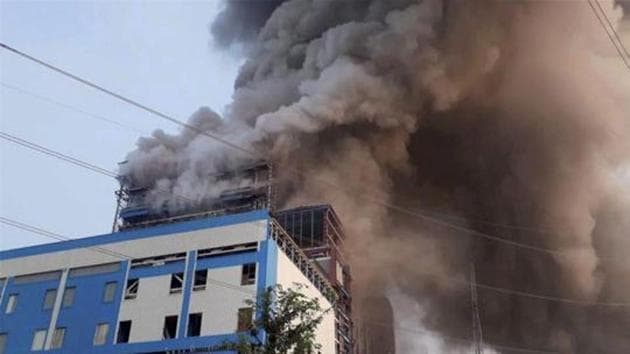 The National Thermal Power Corporation (NTPC) is planning to set up a new coal-fired super critical plant in Uttar Pradesh even as its 500 MW Unchahar unit is ready for regeneration a year after its boiler exploded during trial claiming at least 40 lives.
Currently, UP purchases around 5,000 MW power from NTPC to meet its daily requirement that peaked to around 18,000-20,000 MW between April and September this year.
NTPC's regional executive director (north) KK Singh said: "We are planning a supercritical 2x800 MW thermal plant in Vidhyanchal region."
While the generating plant will be set on 400-acre land already available in Sonbhadra, the corporation will set up the ash disposal plant in neighbouring Madhya Pradesh. "We do not have land available for ash disposal unit which we may have to establish in MP," he said. It takes 3-4 years for a thermal plant to start generating electricity after actual work on its installation begins.
"The ill-fated 500 MW unit of Unchahar thermal plant in Rae Bareli, the boiler of which exploded on November 1 last year, is also ready for operation," Singh said.
"Though the unit is ready, it will resume operation only in the first week of December as we do not want to take any chances this time with regard to safety norms," he added.
Besides Uttar Pradesh, Haryana, J&K, HP, Rajasthan, Uttarakhand, Chhattisgarh, Delhi and Punjab will also have share in the power to be produced by the unit.
NTPC's other upcoming projects in UP include the 1320 MW Tanda-II and 1320 MW Meja thermal plant in joint venture with the UP Power Corporation Ltd. It has also announced a 1320 MW plant at Bilhaur.
NTPC has an installed capacity of 51,383 MW. Among the plants include 20 coal-fired, seven gas-based and 12 coal-based plants under joint ventures.
"NTPC has target of increasing its installed capacity to 1,28,000 MW in the country by 2032," Singh said. Sources said installation of more plants by NTPC was in the interest of UP. "The power that UPPCL gets from NTPC plants as its share always costs far less than the one it purchases from private plants," they added.
Personalise your news feed. Follow trending topics