India's first indigenously developed 700 MWe nuclear power reactor at the Kakrapar Atomic Power Project in Gujarat starts operations.

Published on Aug 31, 2023 09:13 PM IST
The SP chief further said rain has badly affected farmers. He said the crops have been damaged on a large scale and there is a shortage of fodder as well.

Updated on Jul 10, 2023 11:42 PM IST
Insufficient regulated tariffs are the dominant reasons for discom cash shortfalls. Fixing this is necessary and urgent

Published on Jun 19, 2023 01:09 AM IST
In the book released in 2015, the NCP chief heaped praise on Adani while describing him as a "hard-working, simple, down-to-earth" person

Updated on Apr 10, 2023 03:59 PM IST
In a notification issued on Monday, the environment ministry extended the timeline to meet SO2 norms to December 31, 2027, for units which are scheduled to retire, and December 31, 2026, for plants that will continue operations beyond that period.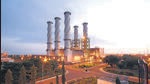 Updated on Sep 07, 2022 01:46 AM IST
By
Jayashree Nandi
, New Delhi