Happy Birthday Rekha: 10 powerful quotes by the living legend
Her reel life has always been awe-inspiring but Rekha is known for being a reserved person who keeps her experiences to herself. She has lived life on her own terms without being unapologetic about her choices. On her 64th birthday today, we revisit the powerful words that define this megastar and fighter.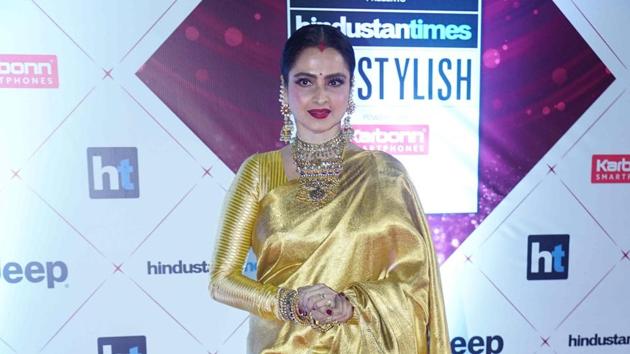 Updated on Oct 10, 2018 04:10 PM IST
Hers is one struggle story that can inspire films, web-series and probably several novels. The fact that despite knowing the struggle was always going to be a reality for her, she worked her way to the top of her game through her roles like a very nuanced one in Ijaazat, the riveting Umrao Jaan, the bubbly character in Khoobsurat long before Sonam Kapoor reprised the role of the misfit in a family, the beautiful Chandni in Silsila and even left an impact with her appearance in a song from Parineeta.
Her reel life has always inspired awe from her fans all over but Rekha, usually known to keep her story to herself has proven how her real life too started far from a fairy tale but through diligence is one to look up to. On her 64th birthday today, we explore quotes by her that prove how Rekha is the perfect blend of beauty with brains in the Hindi film industry.
1. "I was called the 'Ugly Duckling' of Hindi films because of my dark complexion and south Indian features. I used to feel deeply hurt when people compared me with the leading heroines of the time and said I was no match for them. I was determined to make it big on sheer merit."
2. "I am and I will always be Bhanurekha. I don't think people change. She was a very shy, very loving loner, which I still am."
3. "Now people might think that I am not married and I have no children, the conventional lifestyle you know, but I see it this way: as long as you are alive you have a chance to have a future. At least there is hope."
4. "I don't care much for success – it's an alien word to me. I don't believe in success, I don't believe in achievements so to speak. I just believe in relishing every moment of my life. That's enough for me."
5. Rekha on her first on-screen kiss:
"I didn't do it. I was taken by surprise. Nothing could've compensated, nothing can wipe off what I felt. Not even the coverage it got in Life magazine."
6. "If a marriage doesn't work, you can't do anything about it. I am not the kind who'll stick on under false pretences. What's the point in prolonging a relationship which has no future?"
7. "Loneliness is still a part of me, but being alone is not necessarily being lonely."
8. "For a woman to be complete, she has to be a blend of Paro and Chandramukhi. I feel that I am that woman."
9. "Bombay was like a jungle, and I had walked in unarmed. It was one of the most frightening phases of my life... Guys did try and take advantage of my vulnerability."
10. "I have been more or less on my own. In that case, one can feel sorry for oneself. But, in my case, it gave me more time to observe."
Topics
Close Story