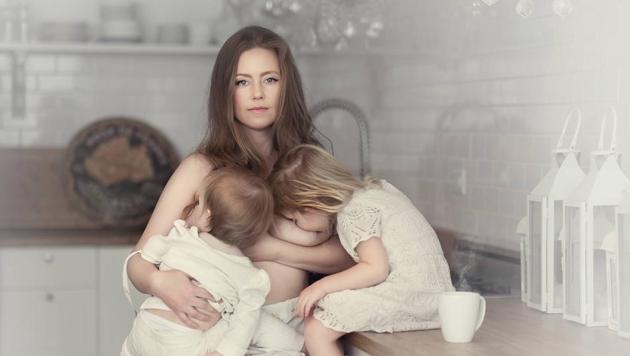 This woman's photos of mothers will change your views on breastfeeding in public
Photographer Ivette Ivens has shot a number of stunning images that depict breastfeeding in its most beautiful and raw form.
UPDATED ON OCT 12, 2017 04:01 PM IST
Ivette Ivens has chosen an unusual subject for her lens: breastfeeding mothers.
Ivens has shot a number of stunning images that depict breastfeeding in its most beautiful and raw form. From diabetic women to those who conceived their baby via a surrogate, Ivens has shot them all and compiled some of her work into a book Breastfeeding Goddesses.
The Lithuanian-born photographer believes breastfeeding continues to be a taboo because people are ill-informed on the enormity of benefits offered by mother's milk.
"It truly is the most perfect food and gift we can give a child. If people understood the benefits without being lambasted with propaganda for manmade milk, formula, etc. I believe they would view nursing as the most natural gift and not something to be sexualized," she says.
For Ivens, the story of women's' lives helps her decide if she wants to capture them in her photographs.
"There are women I come across who have an inspiring story, such as a woman named Mimi who was burned over 80% of her body," says the 27-year-old in an email interview.
Ivens' pictures of Schamica "Mimi" Stevenson nursing her son, Josiah, are as powerful as the tale she survived to tell. In 1985, Stevenson survived a house fire that killed her baby brother when she was just two years old, she told HuffPost. Though she needed skin grafts and surgeries through her teen years, she was able to become pregnant.
"She has gone through life, fighting for her right to be confident and feel beautiful," says Ivens. "These are the individuals who inspire me!"
She conducts her shoots against stunning natural landscapes like beaches, forests, and fields and the result is almost sublime and dreamy. "The natural, outdoor settings depict the nature of breastfeeding as it was created to be seen," says Ivens.
Her own breastfeeding experience inspired Ivens to photograph women in such beautiful, raw and intimate moments.
The mother of two small sons says she loved being pregnant but people around her didn't echo the happiness that she was experiencing.
"The comments and degradation I encountered and heard from others prompted me to stand up and fight for what is right, and by this I mean for both the child and the mother! I thought this would be a beautiful avenue for such a cause!" she says.
Celebrity or not, breastfeeding moms continue to face criticism for feeding their babies in the open. A quick search on breastfeeding in public returns numerous reports of women being bullied and shamed while breastfeeding.
But it's not just men "who consider breastfeeding in public immodest or disgusting or somehow impolite," notes a 2016 report in Quartz.com. "Women seem to be some of the worst perpetrators in the public displays of breastfeeding (PDB) shame game," it says.
In August this year, a woman breastfeeding her one-year-old child in London's Victoria and Albert Museum's courtyard was asked by a female member of the staff to conceal her breast.
She took to Twitter and posted pictures of various sculptures at the V&A, all of which prominently feature nude female breasts, highlighting the museum's double standards.
In another instance earlier this year, the eldest daughter of former Formula 1 boss Bernie Ecclestone socialite Tamara Ecclestone faced the heat on social media after she uploaded a shot of herself on Instagram, breastfeeding her three-year-old daughter Sophia.
Ivens hopes to shatter the stigma surrounding breastfeeding through her photos.
"I learned how empowering and strong we are especially when we stand for a purpose together. Additionally, I learned how beautiful someone can suddenly feel when they are forced to look at themselves (from the photographer's lens) in a new light!"
Close