When you don't trust your husband with grocery shopping, here's what you do
Updated on Sep 26, 2017 04:45 PM IST
This woman's hilarious grocery list for her husband is going viral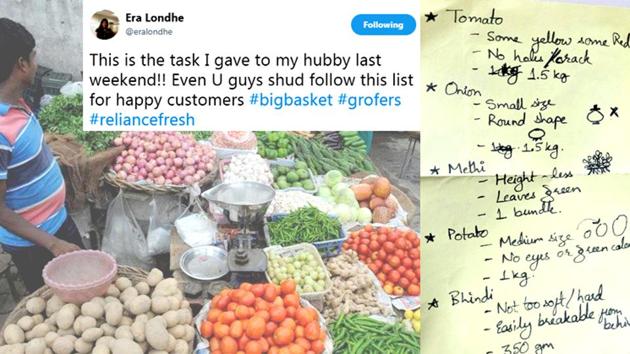 No one can shop for your groceries better than you.
That's why an Indian woman gave her husband a meticulous bullet list complete with illustrations of exactly what she wanted.
From elaborate explanations for the kind of tomatoes to buy to how the potatoes and onions should look, this post by Era Londhe has been liked over 4500 times on Twitter and is cracking up people on other social media platforms too.
.
Readers were impressed by Londhe's effort and praised her for the precision with which she undertook the task.
"You did a great job. Couldn't have been [a] better guide to buy vegetables," wrote @iSHIRAZONLY. @MohitRajabhoj added, "This should be the preface of all cookbooks."
Some women told her they planned to implement similar drills with their own husbands.
"You are on fire woman. Good job. Now my husband wants me to do the same for every list I give him," tweeted @simmpu.
There were others who had questions about the list. Why did Londhe want yellow tomatoes? What did she have against big potatoes? So, she released a sequel to her first tweet in the form of an answer key.
"Yellow tomatoes last longer — three to four days," she wrote. "Curled up chillies are mostly infested," she explained. Additionally, there were explanations for the desired appearance of onions, methi (fenugreek leaves) and bhindi (okra).
Many were inspired by the handy representation and suggested that more of such visual references for selecting vegetables will be a revolution.
"Most often than not I and my wife are just standing there choosing vegetables based on some random intuition," said _Duffman on Reddit.
There were some who felt that Londhe's "grocery list is for a small child". "This is how my mother would write lists for me when I was a child," said big_black_coke.
A few, however, were taken aback by the fact that men in India struggle to shop for groceries.
"Do Indian men still live like memes who can't shop for groceries? Or am I the only one who actually lived alone before marriage and knows how to not live like some caveman?" wrote mrfreeze2000 on Reddit.