102 Not Out movie review: You will root for Amitabh Bachchan, Rishi Kapoor and their high spirits
Amitabh Bachchan and Rishi Kapoor ensure that you root for them despite a few hiccups in the script. Here's our movie review.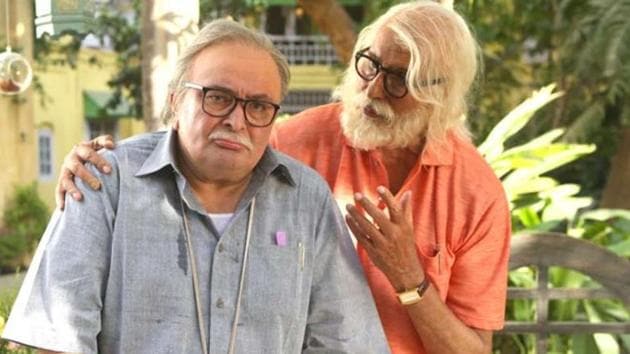 Updated on May 05, 2018 12:05 PM IST
102 Not Out
Cast: Amitabh Bachchan, Rishi Kapoor, Jimit Trivedi
Director: Umesh Shukla
Rating: 3/5
Like his last film, Oh My God, director Umesh Shukla has again found his inspiration in a play. Based on Saumya Joshi's Gujarati play of the same name, 102 Not Out is a lesson on life skills and how to rise above the bitter memories and cherish the sweet ones.
102-year-old Dattatray Vakharia (Amitabh Bachchan) and his 75-year-old son Babulal (Rishi Kapoor) don't have much in common. While the father's zeal for a fulfilling life knows no boundary, the son is trapped in his past.
One day, out of the blue, the father announces that he is going to send the son to an old-age home. The son protests and the father names his terms. He asks the son to fulfil his five conditions over a period of six months. But it is more than just a game for them.
102 Not Out begins with a few hiccups. The actors take time in adjusting to the script, which relies more on dialogues than actions. Remaining true to the play, every character is introduced by a fellow actor, and wherever they feel restricted, Vijay Raaz's voice-over comes to the rescue.
After a talkative initial portion, the veterans begin to settle down in their roles and 102 Not Out starts taking shape. Umesh Shukla ensures we go down the memory lane and remember our childhood and secretly sob as Rishi Kapoor silently unpacks his armour. While Amitabh Bachchan plays the anchor, Rishi becomes the glue that sticks the scenes together.
His grumpy old man strikes a chord with us. His silence and cries make sense to the audience, and you hope his character will achieve full bloom. The screenplay, however, favours Amitabh Bachchan's energetic act. The focus keeps shifting from one to the other without actually achieving the crescendo.
Read: October movie review: Varun Dhawan powers Shoojit Sircar's soulful film
Read: Beyond The Clouds movie review: Not Majid Majidi's best, Ishaan Khatter shines
Jimit Trivedi's Dhiru doesn't help either. He provides the comic relief, but the film is light in nature and his interventions don't add much to what the two senior actors have already achieved. A third character is definitely needed to take the story forward and add a neutral perspective, but it could have been carved out in a better way.
Umesh Shukla's focus is on creating moments rather than a build-up that would culminate with a blast. He adopts old school methods and gives his characters enough time to unfold their inner selves. Most of the film is shot inside a house where the director's dependence on the performances increases. When he ventures outside the four walls, he tries to maintain the same kind of serenity.
From rains to melodious ring of horse-carts, he uses sounds that don't hamper the audience's thought process. Not being too gimmicky helps him when the viewers find time for an inward journey. It may look traditional filmmaking to some, but it's surely effective.
Read: Nanu Ki Jaanu movie review: Abhay Deol's film is a bizarre ghost story
Read: Missing movie review: Slightly disoriented, but Manoj Bajpayee-Tabu make it work
102 Not Out's heart is firmly in the right place. The film knows its territory and the emotions it wants to evoke. It's just that a few important characters don't get enough play and they are sacrificed to make space to Amitabh Bachchan and Rishi Kapoor.
But are the two veterans worth it? Definitely. They form the soul of 102 Not Out and its youthful exuberance. Rishi Kapoor has an upper-hand though.
The film's 101-minute duration is enough to convey its high spirits and liveliness. Its message is loud and clear though it comes at the cost of some unnecessary villainy.
What a joy to watch two fantastic actors working in tandem in a performance-oriented film!
Interact with Rohit Vats at Twitter/@nawabjha
ott:10:ht-entertainment_listing-desktop
Close Story
Personalise your news feed. Follow trending topics