Captain movie review: Everything in this Jayasurya starrer is too perfect to be true
Director Prajesh Sen's vision in the Jayasurya starrer, Captain, comes in the way of us getting to know legendary Indian footballer VP Sathyan.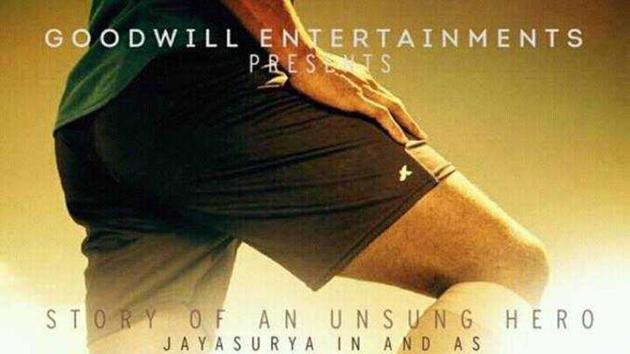 Updated on Feb 16, 2018 02:42 PM IST
Captain
Director: Prajesh Sen
Cast: Jayasurya, Anu Sithara
Rating: 2/5
In a country where cricket is a religion, what place does football hold? Is that even a sport that people invest their life in? Director Prajesh Sen answers these questions by taking us on a journey of former Indian football team captain VP Sathyan (played by Jayasurya). The film shows his struggles and successes and a glimpse into the lives of people who live for the game.
As we see Sathyan's life flip back and forth between 1992 and 2006, we see that the director has tried to wring out every emotional moment that is worth in his life. For instance, there is this epiphanic moment in Sathyan's life where he needs to decide whether to give up his life for one game or give up the game for a flourishing life. In trying to impress on the fact that this is an important scene, the camera is set on a top angle and captures expression through the fan. His decision is shown in a symbolic manner as he kicks his football to turn the fan on and the camera stays rooted on his face. Of course, the kick and tap are shown in slow motion. While the expectation of this shot would have been to get the audience to 'feel' the moment, it is hardly organic.
This is the problem with the film. Everything is orchestrated to look like it has depth. There are shots that show Jayasurya's face as the character seethes in pain, but we don't feel the connect. The scene of him icing his injured leg, living with unbearable pain must have tugged at us to feel pity, but it doesn't go that deep.
As the story of Sathyan unfolds, it looks like the writer had a checklist and ticked it off every scene he added, beginning with how VP Sathyan's wife, Anitha (Anu Sithara) liked cricket over football. With the shot of her pointing at a Boost advertisement of cricket icons Kapil Dev and Sachin Tendulkar, and calling them the Indian team, he shows us the mentality of people in the country about any sport other than cricket.
The addition of a police officer who tortured Sathyan with demeaning punishments made us wonder if there was a rule book that the director was following for success.
The moving back and forth in the narrative doesn't have proper connect, leaving us confused. The scene where Sathyan sees the letters and recalls everything that he had written to his newly married wife makes sense, but lacks substance.
It is this that keeps audience from investing themselves in the story although Sathyan's life is a tragic story with enough highs and lows.
The life changing moment when Sathyan's fails to hit the goal in a penalty shot was one of the few scenes that makes you gasp in horror. By showing this to audience in the beginning, the director makes it clear that the film is not a happy one. The following scene with newspaper clippings announcing Sathyan's death is an overkill.
Where is the progression of a player who was once the crown jewel of football? By choosing to move between the past and present, the director doesn't show an organic change in the character. This feels like a great loss considering Jayasurya's incredible performance.
There are some beautiful scenes, no doubt, but they adversely affect the film by showing us how flawed the rest of it is. The pre-climax portion is probably the best part of the film, but even that comes after a long wait.
A biography should have an element of realism which helps viewers connect with the central character. In reality, human beings are flawed, but everything in Prajesh Sen's film is to too perfect to be true. Sometimes one must let the story breathe and take shape on its own accord. To add a defensive tone to every action of Sathyan's is a hindrance to film.
This choice has affected the film because it is hard to travel with the protagonist here. The overkill of emphasising that this story is about an unsung hero, who ended up being a frustrated man because of his injury, leaves you wondering where all that frustration was. All you remember are the close-up and slow-motion shots.
One takeaway from the film is Jayasurya's acting. He has tried his best to show that anger, frustration and hopelessness that comes with being an injured player in a game not as famous as cricket in the country. In the end, it feels like the director's vision came in the way of understanding the former Indian football team captain.
Follow @htshowbiz for more
ott:10:ht-entertainment_listing-desktop
Close Story