Dil Juunglee movie review: Taapsee Pannu, Saqib Saleem save this cliched love story
Mar 09, 2018 02:18 PM IST
Dil Juunglee movie review: Dil Juunglee is yet another repeat of the centuries-old love story with a cliched narrative. It is only Taapsee Pannu's charm and Saqib Saleem's earthiness that keep the movie from getting unbearable.
Dil Juunglee
Director: Aleya Sen
Cast: Taapsee Pannu, Saquib Saleem, Nidhi Singh
Rating: 2/5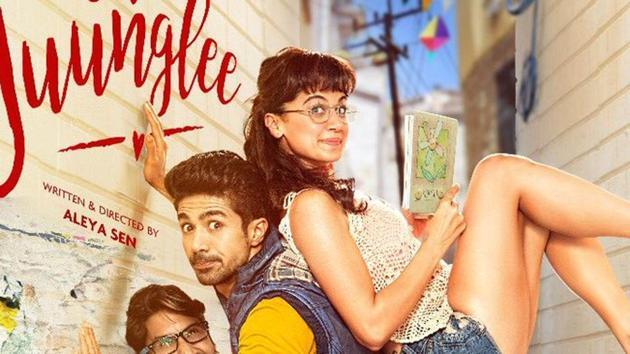 Rich girl wants love, not the luxuries in life. Poor boy wants fame and money. They fall in love, life jolts them back to reality and they fall apart. Years later, they realise that all they want is each other. How many times have we seen this same storyline? Dil Junglee is yet another repeat of this centuries-old tale. What makes it worse is the cliched treatment to the narrative. It is only the actors — Taapsee Pannu, Saqib Saleem, Nidhi Singh and other supporting cast — who keep the movie from getting unbearable.
Stay tuned with breaking news on HT Channel on Facebook.
Join Now
Debutant Aleya Sen, who has also written the film, begins her narrative in Delhi where the lead pair — Koroli (Taapsee) and Sumit (Saqib) are about to elope and get married. But the way to their destination ain't easy and things do not turn up quite the way they expected. Sumit is a model who is celebrated for being featured on the cover of Grihshobha (a Hindi woman's magazine's) sans his face and aspires to be a Bollywood hero soon. Koroli or Koro as her friends call her, is born in a rich business family but has no inclination towards the family business. Instead, she is interested in the English language and romantic novels.
The filmmakers have tried every trick in the book to make Dil Junglee relatable to the young audience. While a brinjal sandwich is used to make fun of the vegetable, Sumit's casting agent talks of Karma Productions and DDLJ part 3, a clear dig at the many unofficial remakes of the 1995 hit film.
Sadly, Sen has also included every cliche and stereotype available in Hindi cinema — rich father hates his daughter because she is interested in literature and not 'numbers' and MBA. "Itne bade industrialist ki beti ek mamooli English counsellor, what a shame!" the father tells Koro.
Koro is a studious and 'good' girl. So she wears specs and her only dream is to be 'happily married'. As her friend describes: "Pehli date me tujhe maa ke kanngan chahiye and dusri date me Gandhaari k Tarah 100 bachhe! Have some fun in life!"
And of course, because this friend wants our heroine to 'have fun' instead of getting married and is also rich, she looks down upon 'Lajpat wale' because what are rich people if not snobbish?
Then Sumit has a girlfriend who uses his card to pay for her shopping but also reminds him "Mai bhi na rich family se hoon. Mere papa ki Dwarka me sweet shop hai!"
Dil Junglee is an age-old story, told with a hundred stereotypes, none of which helps it. It is only Taapsee's charming presence and Saqib's earthiness that keep us entertained. Taapsee looks authentic in both the avatars that she dons in the film. Saqib, too, provides ample support with his realistic portrayal of a middle-class Delhi boy. In fact, almost all the actors — Saqib's mom, his friend, Taapsee's friend and his fiancée — make the film lively.
Interact with the author @swetakaushal
Follow @htshowbiz for more