Ghostbusters review: Who ya gonna call the worst movie of all time?
Ghostbusters review: Paul Feig's all-female reboot starring Kristen Wiig, Melissa McCarthy, Kate McKinnon and Chris Hemsworth is hardy the worst movie ever made.
movie reviews
Updated: Jul 30, 2016 16:28 IST
Ghostbusters
Director - Paul Feig
Cast - Kristen Wiig, Melissa McCarthy, Kate McKinnon, Leslie Jones, Chris Hemsworth, Neil Casey
Rating - 3/5
For years, everyone held on. But after a while, even the most optimistic fans gave in. Bill Murray was being Bill Murray about it, and with every passing year, the possibility of getting a third Ghostbusters movie became slighter. But it was only when Harold Ramis, one of the stars and writers of the original died in 2014, that all hope got sucked into a slimy vortex.
On paper, it's always a detestable idea to reboot a popular franchise. It's the work of lazy, greedy minds. And it would be safe to assume that's how the seeds for this Ghostbusters reboot were planted. But we can't really begin talking about this movie without first addressing the forest fire of a controversy that has been following it, seemingly, from the moment it was thought up in some steely corporate boardroom.
Read other movie reviews here
Hitherto hidden radical, fanatical maniacs emerged, like cowards, possibly from an evil alternate dimension (like the ghosts in this movie), to spew hatred and negativity. They were armed with the anonymity of the internet, and cursed with the intelligence of Donald Trump. For months, publicly supporting this film could mean automatic cyber bullying and definite racial attacks. We've seen what negative publicity can do to a movie (just look at anything Johnny Depp's done recently), and for a while, it seemed certain that Ghostbusters would be dead on arrival – pardon the pun.
So it gives me great pleasure to report that Ghostbusters is a blast from start to finish – well, not quite start to finish (there's a 15 minute stretch that lags), but let's ignore that, because the rest of this movie is – and this is getting rarer and rarer these days – pure joy.
These girls ain't afraid of no ghosts.
You'll agree when I say that most comedies these days are usually very hit-or-miss. They can't quite sustain their laughs – and neither does this one – but for nearly the entirety of its 2 hours, it's consistently hilarious. It isn't afraid to poke fun at the internet trolls that have become so integral to its journey. The story surrounding this film is as important as the one it is telling (which isn't really that important at all), so it was a wise decision to acknowledge everything that happened.
What made the original Ghostbusters such an enduring classic wasn't the (for that time) snazzy special effects, or even the dry humour. It was the cast. Director Paul Feig, whose last two films – The Heat and Spy – weren't exactly my favourites, understands the importance of assembling the perfect cast. He did it with Freaks & Geeks, the path-breaking show that remains, to this day, the best thing he's ever done. And he does it again here.
The chemistry between Kristen Wiig, Melissa McCarthy (who, let's be honest, has a tendency to play the same screechy idiot in most of her movies), Leslie Jones, Kate McKinnon and Chris Hemsworth is electric. They're all talented improvisers, and you can see how much fun they're having with each other. But in a film in which nearly every speaking role is played by a brilliant comic actor, it's Kate McKinnon who towers over her fellow SNL alums - her and Hemsworth, but I won't spoil what he does (you have to see it to believe it). The character choices McKinnon sometimes makes are so out-of-the-box that it's all the more impressive when she fully commits to the insanity and goes to town.
Read In the Heart of the Sea review: Hemsworth's whale of an adventure
Read The Huntsman Winter's War review: Totally worthless, despite Hemsworth
In the end, that complete drought of expectations worked in Ghostbusters' favour. It delivers what fans of the original wanted – including, of course, those not-so-secret cameos. It's spectacular when it needs to be (that Times Square finale is a visual delight). It has just the right amount of quiet, character moments. But mostly, it's just a quirky, goofy, loud, immature tribute to the movie we all love so much. So let's stop those angry tweets now, yes?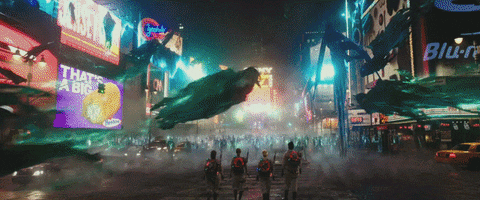 Follow @htshowbiz for more
The author tweets @NaaharRohan
Watch the most hated trailer of all time here
First Published: Jul 29, 2016 14:30 IST