Ittefaq movie review: Sidharth Malhotra, Sonakshi Sinha's decent crime thriller
Ittefaq keeps you on tenterhooks as its pace ensures that you do not get to think twice about what just happened. While Sonakshi Sinha and Sidharth Malhotra play the suspects, Akshaye Khanna is the wary investigator. Here's our movie review.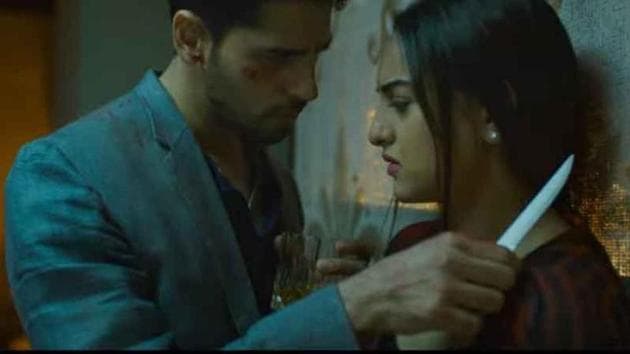 Updated on Nov 06, 2017 02:16 PM IST
Ittefaq
Cast: Sidharth Malhotra, Sonakshi Sinha, Akshaye Khanna
Director: Abhay Chopra
Rating: 3/5
Vikram Sethi (Sidharth Malhotra) is a London-based mystery writer. His last book hasn't done well, and he is under pressure to deliver a bestseller. He is in India to launch his next, but circumstances take a strange turn when his wife's body is discovered in a Mumbai hotel.
It's natural for the police, led by Dev Verma (Akshaye Khanna), to arrest Vikram after he flees the scene of the crime. But the man turns out to be a slippery customer -- he gives them the slip and scoots, again!
Vikram is nabbed a second time at the house of a total stranger, Maya Sinha (Sonakshi Sinha). What's more, her husband's body is there too.
The police now face a problem of plenty. They have two bodies, two prime suspects and a number of secondary suspects in what once seemed like an open-and-shut case.
A remake of 1969 hit of the same name, Ittefaq uses Mumbai's rain-prone environment as a suitable backdrop for the murder mystery. The hazy weather and closed spaces spread a canvas and bracket the audience's view. It's all very linear, so one needn't have a prior understanding of the relationships between the major characters.
A large part of the action takes place on staircases and inside dimly lit apartments. You know how claustrophobic city landscapes can get at times. Weird things happen in the middle of congested zones, and there are no witnesses despite the sea of people forever flooding the place. Notice how bodies keep turning up in locked apartments many a week too late?
Debutante director Abhay Chopra plays with our mind by not introducing many secondary story arcs in the plot. This technique makes us focus solely on the murders, with blinkers on.
From love to seduction and betrayal, Chopra uses every trick in the book. Akshaye Khanna's cop is under pressure to solve the case within the stipulated period. It seems like an open-and-shut case at times, but what if the murders are not connected, or connected? What if all this is actually by chance (Ittefaq)?
It's not 'the butler did it' kind of crime as the director gives ample hints of a logical conclusion through the 100-minute film. Anything less than a sensible conclusion would have amounted to shortchanging the audience. Luckily, that doesn't happen.
However, one major problem with Ittefaq is the lack of intensity. Sonakshi Sinha and Sidharth Malhotra take time in adjusting to their surroundings. That reminds me of Ram Gopal Varma's terrific psychological drama Kaun (1999), which worked mostly because of its lead cast. Ittefaq must have looked much better on paper.
Though Sinha continues to struggle with her part till the bitter end, Malhotra begins to hit the right notes after a while. That helps the film a great deal.
You know how investigative officers are used as storytellers in such films. Here, Khanna plays that role with ease, finesse and poise. He binds the story together.
Watch: Our Facebook Live discussion on Ittefaq, Ribbon
There are no songs to distract you, and the camera keeps hovering over the same locations. The idea is to give us a 'rear window' through which you can see the action, but can't exactly understand its true nature.
The plot is not absolutely water-tight (the movie would have blown you away with its twists, if that was the case), but Chopra does put his resources to good use. Ittefaq tries its best to create intrigue, and doesn't give the audience a lot of time to think twice about a single event. That is its biggest achievement.
Ittefaq is a decent crime story that will keep you hooked, and guessing.
Interact with Rohit Vats at Twitter/@nawabjha
ott:10:ht-entertainment_listing-desktop
Close Story
Personalise your news feed. Follow trending topics