Omerta movie review: Rajkummar Rao's film focuses on the terrorist's modus operandi, not his ideology
Omerta movie review: Rajkummar Rao's film focuses more on the terrorist's modus operandi than his ideology but works as a docu-style thriller about a cold-blooded murderer who believes he is on God's mission.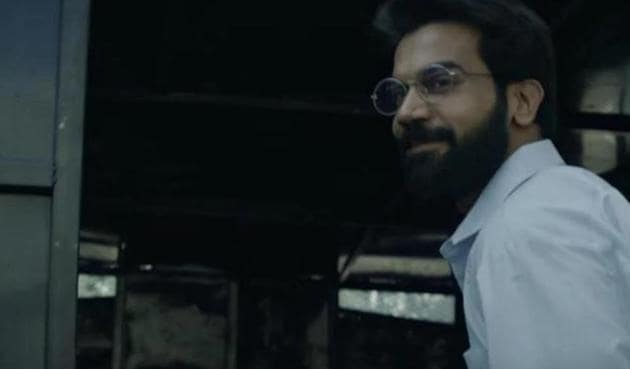 Updated on May 05, 2018 12:09 PM IST
Hindustan Times | By Sweta Kaushal
, New Delhi
Omerta
Director: Hansal Mehta
Cast: Rajkummar Rao, Rajesh Tailang, Blake Allan, Keval Arora
Rating: 3.5/5
Omerta: (among the Mafia) A code of silence about criminal activity and a refusal to give evidence to the police.
Hansal Mehta's Omerta is not about the Italian mafia, or any code of silence. Its name, perhaps, is a play on the name of its central character, British terrorist of Pakistani origin Omar Saeed Shaikh. He is not the hero, he can never be. One of the most dreaded terrorists whose name is inextricably linked to IC-814 hijacking and the murder of journalist Daniel Pearl, he is no hero. He remains, however, Omerta's lone focus with every other shot capturing him. With the film, director Hansal Mehta attempts to peek inside the mind of a terrorist, a murderer, without humanising him, with Rajkummar Rao bravely playing a man who continues to be linked to multiple crimes against humanity.
Mehta follows his subject as he begins his career of crime. A scene right in the beginning establishes Omar's cruel mind and a pitiless heart. With censors deeming the scene too grotesque for Indian audience, what we see is a black screen and urgent, helpless cries.
From there on, Omerta moves back and forth in time, giving us glimpses of Omar's training in Pakistan and Afghanistan, his first meeting with an ISI officer, a top Al qaida leader, apart from his time in Tihar jail in India. The movie delves into some of his crimes and just touches upon others -- the failed kidnapping of tourists in Kashmir, his involvement in 9/11, the the Taj terror attack and journalist Daniel Pearl's murder.
Mehta bravely reiterates the religious fanaticism that leads to such radicalism. He also places a Muslim cleric, an ISI officer and the Pakistani government deftly as the propagators of terror.
The biggest challenge while making a film on a negative character is to not get vacuumed into the criminal mind. The danger of justifying criminal acts while trying to make sense of them is always there. Omerta does not fall into the trap - mainly because Mehta and Rao conscious decision not to do so, but also because the film fails to go beyond the three major incidents in Omar's life.
Who is Omar Saeed Sheikh, the terrorist Rajkummar Rao plays in Omerta?
That is also where the movie disappoints. It never shows why an educated man drops out of London School of Economics to take up the violent path of 'Jihad'. We never get a portrait of Omar's mind with the director focusing more on events rather than intentions and ideology.
With ample use of real, news footage from these incidents, Hansal gives a documentary feel to the film. At no point does the film try to dig deep into the terrorist's psyche or his surroundings.
Perhaps, the fact that little is known about Omar Shaikh Saeed in the public space is the reason behind this approach.
There are, of course, a few mentions of how the system, police and even the public have certain religion-based perceptions. For example, when Omar tells a cop his name is Rohit Verma, the police officer stares at him suspiciously and says, "Mulla lag raha hai." The cop even goes on to say, "Kyu, bura laga? Biwi Muslim hai kya?"
You can't justify what Omar does, says Rajkummar Rao on Omerta
Omar's handlers and trainers often remind him (and, the audience) that their 'cause' needs a well-educated man like him. One person even goes on to tell him, "Jihad ko tumhare jaise padhe likhe logo ki zarurat hai. Anpadh ganwar Jihadiyon ki koi izzat nahi karta. Lekin jab logo ko pata chalega ki tumhare jaisa foreign-educated insaan humare saath hai, tum hero ban jaoge."
With crisp editing and a runtime of 97 minutes, the film never lets you lose attention and the gripping narrative style ensures you are on the edge throughout. Rao proves his mettle once again as he smoothly gets into his cold character who can switch accents and personalities with equal ease – and does it all for the sole purpose of serving the 'holy war'. The actor makes us believe he is the terrorist who turns into a meek guide for tourists, drinks milk as they chug beer and aims a gun at them in just the next moment. The silences and close-ups that Omerta uses to showcase Omar's cold character and flinty stares establish his chops as an actor.
As the film does not delve much into the particular subject's personal life, it becomes more of a larger comment on communal hatred and the futility of religion when it is used to propagate violence and evil purposes.
Interact with the author @swetakaushal
Follow @htshowbiz for more
ott:10:ht-entertainment_listing-desktop

Close Story