Tera Intezaar movie review: The curious case of hanging mango and Sunny Leone
From performing planchette to listening conversations via paintings, Tera Intezaar can entertain you at many levels. Here's our zero star movie review.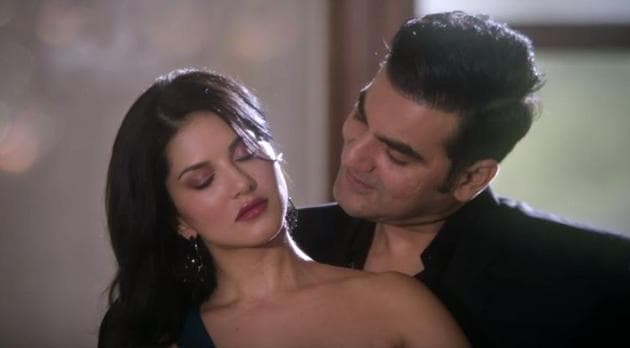 Updated on Dec 02, 2017 02:06 PM IST
Tera Intezaar
Cast: Sunny Leone, Arbaaz Khan
Director: Raajeev Walia
Rating: 0/5
It's another weird supernatural film featuring Sunny Leone.
There isn't anything to talk about its story, still I will enlighten you. Why should critics have all the fun?
Veer Singh Rajput (Arbaaz Khan)-- there are producers who still dare to cast him as lead-- is a closet painter. One fine day, while he was painting from his imagination, it turns out to be Raunaq's (Sunny Leone) portrait. In next thirty seconds, he meets her and begins to sing duet on a beach.
Oh I forgot, Sunny Leone exclaims with uncontrollable enthusiasm after seeing her portrait on Arbaaz's tablet, "Tumne mujhe bina dekhe itni achchi tasveer kaise bana li (How did you draw such a beautiful picture without seeing me?). Err, shouldn't you be worried about such a creepy situation?
There are some white collar thieves who want to steal Veer's paintings even though he is a rookie. Don't even ask about his paintings, because they may remind you of the first drawing you did in your childhood. Yes, that sun-mountain-river one. I don't know why somebody would kill for such a mediocre painting! On the other hand, they should run away as fast as they can if they are indeed art collectors.
There onwards, Tera Intezaar changes into a bizarre ghost story. People get kidnapped, eloped, murdered. Oh my god, it sounds so better on paper. Then there are twists, more twists and some more twists till you lose the track, or twisted in the head.
There is a ghost-buster played by Sudha Chandran (Ramola Sikand!). She accepts, "Jis tarah se saari cheezein mujhe clear nazar nahi aa rahi hain waise hi tum bhi mujhe clear nazar nahi aa rahi ho (I can't see you clearly as well as other things)." Well, ask us!
She also says, "Inme se aatma kaun si hai ye mujhe samajh nahi aa raha hai (I don't understand which of these is a ghost?)."
It's a collage of incredibly planned scenes. Consider this: A group of four hears a roaring sound inside a jungle and one of them says, "Ye aawaz kuch jaani pehchaani lag rahi hai, shayad sher ki hai (This sounds familiar, is that a tiger?)" Please consider playing Sherlock's Indian counterpart. Will you?
In other scene, Sunny Leone invites some people on a business meeting to discuss about paintings and then breaks into a suggestive dance. They mustn't have seen this coming. Maybe business with pleasure is their mantra in life. What do we know about art!
This review will be incomplete if I don't tell you about the hanging mango. What exactly happens is that four people are running for their lives and enter a jungle. Suddenly one of them spots a mango and decides to eat it. The ghost can wait.
One of them takes a bite and starts talking to the next person. I am yet to figure out why he left the mango mid-air after putting his teeth into it. The mango stays there and after a while starts to stare at them. Trust me, you haven't seen anything so surreal in recent times. I got goosebumps after realising that it's only been 15 minutes into it.
From performing planchette to listening conversations via paintings, Tera Intezaar can entertain you at many levels. Just don't doze off.
Interact with Rohit Vats at Twitter/@nawabjha
ott:10:ht-entertainment_listing-desktop
Close Story