Wonder movie review: Can good intentions make up for the lack of a story?
Updated on Jun 11, 2019 10:16 AM IST
Wonder movie review: when a film attempts the bare minimum by preaching inclusivity, acceptance and tolerance, it deserves praise from us. Or does it? Should a film, even in the most hopeless times, get points for trying to be nice?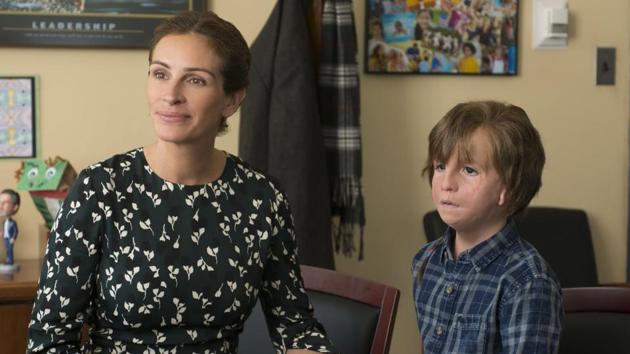 Wonder
Director: Stephen Chbosky
Cast: Julia Roberts, Jacob Tremblay, Owen Wilson
Rating: 2.5/5
The willingness to spread good in the world is something we need right now, more than ever. Life hardly looks wholesome anymore with bigotry and hate surrounding us.
So when a film attempts the bare minimum by preaching inclusivity, acceptance and tolerance, it deserves praise from us. Or does it? Should a film, even in the most hopeless times, get points for trying to be nice or do we still judge it with the strictest measures we would have otherwise applied? I believe it's the latter.
Wonder has a good idea at its core and that is all it has. Director Stephen Chbosky wants to tell a story about giving people – who are different from us – a chance. He does this by making his story about a little boy who has a genetic condition that makes his face look different. He has a perfect family who loves him no end -- a mother who cares for him day and night despite having the opportunity to resume her career, a father who is a happy goofball and an understanding sister.
Everything seems perfect to us but not to the little boy who now has to join a school after getting home-schooled all his life. He is scared of the staring eyes, mean notes in his locker and the name-calling that awaits him.
A week into the mild bullying, the little boy has already made friends. And quite easily, he makes another and then another. By the end of the film, he has at least four good friends and while it may sound pathetic, that's four more friends than what I had in school.
His sister struggles as she is overlooked by the family but loves them so much that she can't even throw a proper hissy fit. She loses friends but gains a boyfriend, and her life is sweet enough. If the film wants us to feel sorry for her, it fails for we are jealous instead.
The film struggles with finding stories to tell even though its run time is less than two hours. It is divided in sections named after four kids: the little boy, his friend, his sister and his sister's friend. The move is extremely forced and doesn't help the narrative in any way. Anyway, the demarcation is forgotten two scenes into each segment as the main characters take over.
Things happen randomly without helping the plot progression in any way. A snow sled gets stolen and much is made about a play. There is an episode with the dog in which Owen Wilson utilises his two leftover sobs from Marley and Me, an unnecessary scene that wastes the few good moments in the movie. Maybe it was shoved in to give some opportunity for him to 'act' rather than crack some more dad jokes.
The wasted time could have been given to establishing a more concrete reason for the sister to feel unloved -- maybe a few more episodes that required the parents to rush to the little boy while ignoring the daughter. For now, she comes across as selfish for cribbing about him hijacking her date with mom because he threw up at school.
Or we could have seen the little boy at his most vulnerable. It is difficult to empathise with him considering the perfect family, the great grades and all the friends. All Jacob Tremblay has at his disposal is his voice considering the prosthetics make it really hard to emote through facial expressions.
Still, the film redeems itself in the small but frequent acts of kindness its characters do for each other -- the sweet sacrificing sister, the mother going after her dreams, the father who has a great day at work, the friend who punches bullies in the throat and the girl who just wants to eat lunch with the boy. Wonder is a happy film, sometimes too sweet to cherish, but quite happy nonetheless.
Fans swear by the intellectual depth and the liberating story of Perks of Being a Wallflower, Chbosky's only other big film, but even that failed to register with me as little more than being dunked in a well of emotions without really soaking in anything. Sadly, this film fails to make a splash either.
Follow @htshowbiz for more
ott:10:ht-entertainment_listing-desktop
Personalise your news feed. Follow trending topics