500kg Egyptian woman will arrive in Mumbai on Saturday for obesity surgery
Officials from Egyptair airlines wrote to the Mumbai International Airport Pvt Ltd (MIAL) authorities, saying the flight will arrive at 4.10am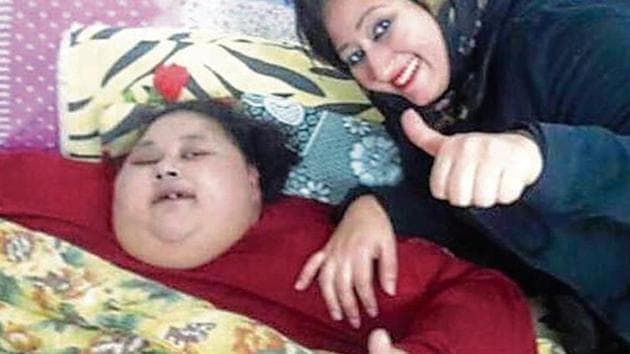 Updated on Feb 10, 2017 05:34 PM IST
Hindustan Times |
, Mumbai
Sadaguru Pandit
Termed the 'world's heaviest woman', 36-year-old Eman Abdellatif is slated to arrive in Mumbai in the wee hours of Saturday. She will fly here in specially-modified Egyptair freighter carrier Airbus 300-600 and then taken to Saifee Hospital, where a specialised facility has been set up, keeping in mind her unique treatment and surgery requirements.
Officials from Egyptair airlines wrote to the Mumbai International Airport Pvt Ltd (MIAL) authorities, saying the flight will arrive at 4.10am. "This is to inform you that Egyptair will operate a non-scheduled freighter flight to bring a patient weighing 500kg to Saifee Hospital for treatment," reads the letter.
Dr Muffazal Lakdawala, laparoscopic and bariatric surgeon at the hospital, said that before any surgical intervention, Eman will need a series of medical tests to determine the cause of her obesity. She may also need a couple of bariatric procedures. The hospital has set up a team of doctors, including an endocrinologist, cardiologist, intensivist, dietician, anaesthesiologist, neurologist and nephrologist.
While Dr Lakdawala, his team and Saifee Hospital are working on a pro bono basis, the cost of transport, medication and equipment is steep. Dr Lakdawala started a fund-raising campaign on change.org to offset costs.
Eman suffers from multiple medical conditions and her treatment will be a long process, rather than a single event.
The patient's sister, Shaimaa Ahmed, had reached out to doctors worldwide, asking them to help her sister. She was disappointed by a lack of responses and decided to contact Dr Lakdawala, acting on one of her friend's suggestions.
In January, Dr Lakdawala flew to Alexandria, Egypt, to meet Eman. He assured her that she would get the best medical help. "A team of specialists is on standby and each will do his or her bit to address the multiple medical problems that Eman is dealing with. I was moved to see how her family has rallied around her, looked after her and been such an amazing support system for her," he said.
Read
Mumbai surgeon visits world's heaviest woman in Egypt
Search on for flight that can bring 500-kg Egyptian woman to Mumbai
Close Story