Search on for flight that can bring 500-kg Egyptian woman to Mumbai
It is doubtful whether Eman will be able to pass through the narrow doors of a passenger aircraft...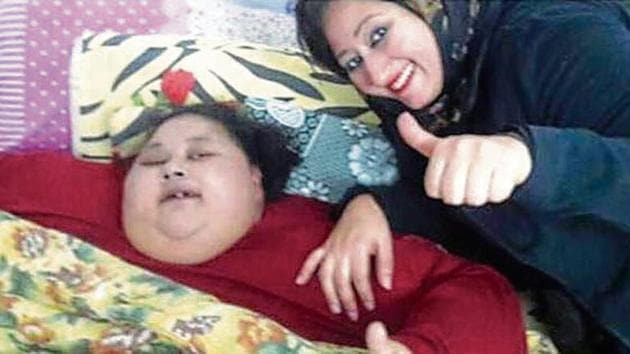 Updated on Dec 09, 2016 09:26 AM IST
Hindustan Times |
, Mumbai
Aayushi Pratap
Mumbai-based doctors set to evaluate a 500-kg woman from Egypt for a weight-reducing bariatric surgery, are now trying to raise funds for the operation. They are also seeking funds to cover the cost of transporting her from Cairo to Mumbai.
Eman Ahmed Abd El Aty, 26, who has not stepped out of her house in Cairo for the past 25 years, will be in the city next week, said Dr Muffazal Lakdawala, the bariatric surgeon who will evaluate her.
"We are planning to open an account called 'Save Eman'. I hope more people come forth to help with finances as her family is not well-off," said Dr Lakdawala.
He had tweeted about Eman's visa being rejected as she could not be physically present at the Indian embassy in Cairo.
India's external affairs minister, Sushma Swaraj read this tweet, and intervened to ensure that Eman got a visa.
Dr Lakhdawala said now that Eman has a visa, finding an airline that will bring her to Mumbai is proving to be a challenge. It is doubtful whether she will be able to pass through the narrow doors of a passenger aircraft.The seats in these aircraft too are not designed for heavy passengers.
"We have approached a few private charted flights, but haven't received confirmation yet," he said.Lakhdawala said it is likely that Eman suffers from obesity, a problem caused by her lifestyle.
"It doesn't seem as though her condition is genetic, as her mother and sister are not obese," he added. "Before we operate, we will evaluate her lungs, heart and arteries to ensure that the operation is safe," said Dr Ladkawala. "I am nervous about the operation. I had operated on a similar patient in China. She was 285 kgs," he added.
Also read
For a healthy life: Bariatric surgery may cut the risk of heart failure
On Sushma's intervention, Egyptian woman granted visa for treatment in India
Losing weight through bariatric surgery can battle premature ageing
Close Story