After Mumbai local trains turn dangerous for women, police up security
Published on Oct 25, 2017 12:37 AM IST
Police constables to man women's compartments in local trains during the day too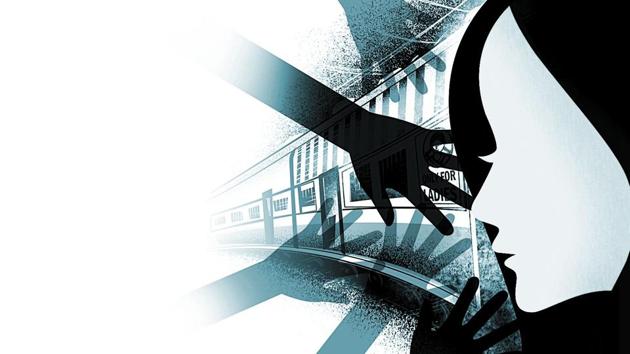 Hindustan Times |
, Mumbai
Megha Sood
The Diwali weekend proved that women in Mumbai are not just unsafe on roads but also in the city's lifeline — local trains. Of the five molestation cases filed during the festival, two took place in the train and that too in ladies' compartments.
GRP commissioner Niket Kaushik said, "At least three women get molested daily on railway premises across all lines of Mumbai's suburban rail network."
Although, as a preventive measure, the Governmnet Railway Police on all the three lines — central, western and harbour — fine around 400 vagabonds and suspected trouble makers everyday for under the Maharashtra Police Act for begging, ticketless travelling or for creating nuisance, some still manage to get away.
Machindra Chavan, ACP, Central Railway GRP, which also looks after the Harbour line, said they alone charge more than 200 people everyday. "On the Western Railway too we nab almost the same number of trouble makers and charge them but they keep reappearing," said Purshottam Karad, DCP, Western Railway GRP.
"In a day, we catch at least 10 to 12 suspected trouble makers and fine them under the law at Chhatrapati Shivaji Maharaj Terminus (CSMT) alone," said S Shinde, senior police inspector at CSMT.
For better safety
So the GRP is now planning to not just increase patrolling on platforms during holidays and Sundays, but also post constables in the ladies' compartment during the day. Currently, the constables are posted in those compartments after 8pm till the last train.
Unlike Metro stations, absence of boundary walls and lack of security at entry/exit points on suburban railway stations let trouble makers in railway premises and taking advantage of the situation, they do not even buy railway tickets.
Realising this, the GRP have formed three teams. "One team will only be responsible for investigations and railway crime. The second team would be in charge of patrolling at stations and constables will be deployed at each entry and exit points (both legal and illegal). The third team would begin patrolling in trains and charging trouble makers to ensure safety of passengers," said Chavan.
Hawker menace
After the Elphinstone Road stampede, the Railways have instructed the GRP and the Railway Police Force to evict hawkers obstructing movement of commuters. "When we catch a hawker, we fine him for Rs1,200 but when we present him before the court, he is fined for just Rs100, which is minimal and does not act as a deterrent," said S Shinde.
The Railways have also asked the police forces to first click a photo of the hawkers with their phones and then evict them. Also, the cops have been told to maintain a diary of all the calls and information about illegal hawkers they receive from station masters and railway staff.
Hurdles
The GRP officials said in moving trains it becomes a little difficult for them to provide instant help and it becomes a bigger problem when they are dealing with staff crunch. Around 3,400 personnel from 17 police stations man 128 railway stations.
Which helpline is it anyway?
Another problem that the GRP had come across was that there are so many helpline numbers that they confuse commuters. Kaushik told HT that the special railway helpline —1512 — had been launched with the intention of doing away with all the other helpline numbers. "This is an easy number which will be the only helpline number after a while as we will close down the other helplines," said Kaushik. This particular helpline will help commuters connect to the nearest on-duty policeman. Also, real-time response will be facilitated from an ultra-modern control room.
"This special platform will let commuters directly report crimes to our officers on the ground and this will ensure a quick response. We receive at least 200 to 250 calls each day on this helpline now," said the GRP commissioner, adding that most callers are women. "It is good that women do not panic , seek help and are also brave to record the crime and the criminal on video to help us nab him."
Personalise your news feed. Follow trending topics