Ahead of rains, BMC makes list of 791 unsafe buildings in Mumbai
The buildings fall under the 'C-1' or 'most dangerous' category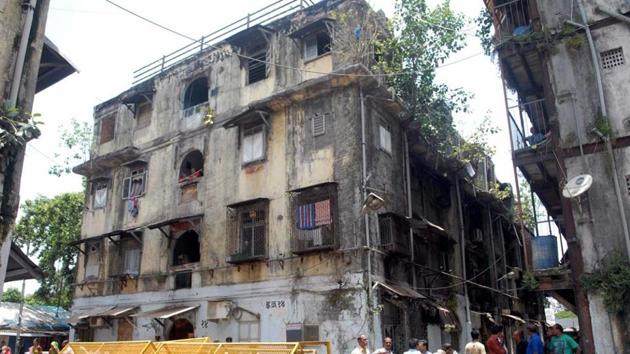 Updated on Apr 18, 2017 09:30 AM IST
A total of 791 buildings in the Mumbai are dangerous to live in.
As part of its pre-monsoon preparedness, the Brihanmumbai Municipal Corporation (BMC) has identified 791 buildings in the C-1 category — the most dangerous. Of these, it has demolished 186 (23%) buildings and evacuated 117 (14%) buildings as of March-end, according to the data obtained by HT.
A senior civic official said, "We do a structural audit before sending notices to residents to vacate the premises. After this, we disconnect power and water supply of the buildings before demolishing them."
The BMC further classifies buildings as C-2 and C-3 . While C-2 buildings require major structural repairs, C-3 need minor repairs.
It sends notices under section 354 of the Mumbai Municipal Corporation (MMC) Act, 1888. Under the Act, residents are asked to vacate the premises within seven days.
The Act also empowers the police to evict people using nominal force.
The data also reveals that the largest number of dilapidated buildings are in L ward or Kurla (113) followed by N ward or Ghatkopar, where 80 buildings are in the C-1 category.
However, the BMC demolished only two buildings in L ward and evacuated around 19 others.
It is yet to initiate action on 92 buildings.
The F/North ward (which includes Matunga, Dadar and Sion) also has 77 structures in the C-1 category.
In the western suburbs, Andheri (west) or the K/West ward has 50 buildings in the C-1 category.
"In many cases, residents get a structural audit done and approach the court to get a stay delaying the demolition further," the official added.
According to the data, 145 cases are pending with the court and 21 cases are pending with an internal committee.
A structural audit is mandatory for any building which is more than 30 years old.
In 2013, 32-year-old building collapsed in Dockyard, killing 61 people and injuring 32. The five-storey building was owned by the BMC.
Boost for building revamp in Mumbai's suburbs
Close Story
Personalise your news feed. Follow trending topics