Air we breathe: Act now or forever hold your breath
Nov 28, 2016 01:19 PM IST
The lack of discipline, according to Mumbai traffic police officials, is adding to the pollution problem
For most of November, days after Diwali celebrations ended, many in Mumbai have been trying to shield themselves and their children from the pollution around them. But it isn't easy; that silent killer is all around us.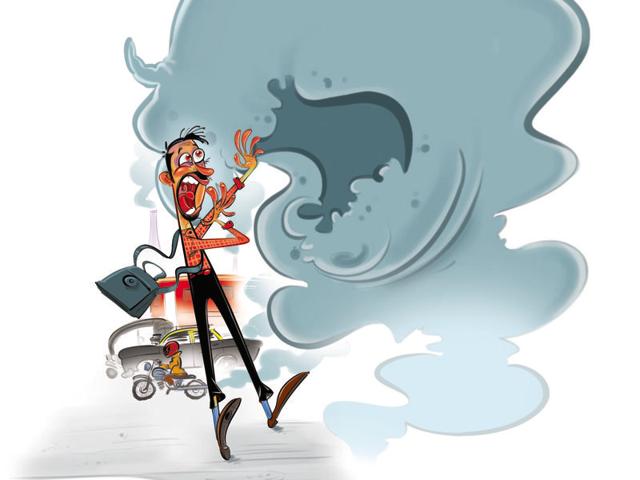 Studies have, over and over again, showed there is nothing beautiful about foggy, hazy mornings and evenings, not anymore. They hold those dangerous, fine pollution particles called PM 2.5 that easily invade our bodies – and, experts believe, being exposed to high concentrations of such particles has the same effect as smoking about two packs of cigarettes a day.
So what is plaguing the air we breathe?
Our cars, bikes, autorickshaws and buses, according to Urban Emissions (India), an independent research group that studies air pollution. The group looked at sources of pollutants that affect the city's air quality and found two-, three-, four-wheelers, including public buses and taxis, accounted for 23% of PM 2.5 in the city, and 21% in the suburbs.
"Technically, all sources leading to high particulate matter in Mumbai need to be addressed. But with vehicular emissions, three aspects need to be checked – the number of vehicles, usage and emission factor as against standards," said Sarath Guttikunda, Urban Emissions (India) director. "We need to tackle all of them and find ways to reduce vehicles on the road and promote public transport."
In just a year, there was a 9% rise in the number of vehicles plying on Mumbai's streets – from 25,46,749 vehicles in 2015 to 27,86,512 in 2016. The number of two-wheelers (16,00,998 in 2016) saw the maximum rise, by 9.5%; four-wheelers (8,84,882) rose by 7.3% since 2015, according to the latest environment report by the municipal corporation.
Citizens should be encouraged to buy only one car or bike per family, said Guttikunda. "There needs to be a shift, towards using pedestrian walkways, cycling or carpooling whenever possible," he said, adding that the state needs to push for implementation of better fuel standards (Bharat stage VI) by 2020. "If this can come sooner than 2020, it would benefit all mega cities."
The lack of discipline, according to Mumbai traffic police officials, is adding to the pollution problem. "Every day, 500 new vehicles are registered in Mumbai. There is an immediate need for pollution (PUC) checks, and then one again every six months. Online facilities have been provided," said Milind Bharambe, joint commissioner (traffic). Bharambe pointed out the lives of more than 1,500 traffic policemen, who work in polluted road junctions, are at risk.
The other polluters
While Mumbai has seen deindustrialisation —factories have shifted out of the city — emissions from industrial activity were the second largest source of pollutants at 20% for the city and 19% for the suburbs. Urban Emissions identified two different types of industries – heavy and light – in Mumbai and those in neighbouring districts in the Mumbai Metropolitan Region (MMR).
"Heavy industries include fertilisers, iron and steel, aluminum; the light ones are pharmaceuticals, metal, paper pulp, and ink," said Guttikunda.
Other major contributors the study identified were domestic cooking, space heating, water heating and lighting that accounted for almost 16% emissions, both in the city and the suburbs. "Roadside cooking using kerosene, firewood, cow-dung and even plastic at times contributes a major portion of PM2.5 in Mumbai's air," said D Saha, additional director and scientist, Central Pollution Control Board. Diesel generator (DG) sets and power plants are another source, accounting for 13% and 15% for the city and suburbs respectively.
"There are hardly any power plants inside the city, but DG sets installed at corporate complexes produce a lot of particulate pollution, and this coupled with carbon emissions do not disperse easily," said Guttikunda.
As a port city, the large number of freight vehicles entering and exiting Mumbai daily is also adding to the pollution. While dust pollution released from these heavy vehicles accounted for almost 10%, open biomass burning, such as the two major fires at the Deonar dumping ground earlier this year, contributed 3-4% of emissions into the air the city breathes every day.
The price of pollution
If there aren't enough reasons to worry about air pollution already, consider the health consequences. Over the past year alone, doctors have reported an increasing number of air pollution-related illnesses in Mumbai. Treating these diseases costs a family of four in Mumbai about Rs1.68 lakh — or Rs42,000 per person — every year, a study on the economic cost of unhealthy air by the Indian Institute of Technology – Bombay (IITB) and the National Environmental Engineering Research Institute (NEERI) found.
Why is Mumbai choking?
Experts attribute it to urbanisation and increasing population. "Mumbai, Pune and Solapur are among the 16 most polluted cities in India, with vehicular traffic, road and construction dust being primary reasons. The density of population and urbanisation are one of the main issues leading to this," said Swadheen Kshatriya, chief secretary, Maharashtra. "The pollution board has already put in place dust separation and collection systems at large construction sites to control this issue."
Dr Dipankar Saha, scientist and additional director, Central Pollution Control Board (CPCB) said every citizen must contribute to improving Mumbai's air quality. "Mumbai has proved it can participate by controlling noise pollution already. Wherever possible, we should start using public transport, or walk, cycles and carpool.
Read
Traffic junctions at Andheri, Wadala, BKC saw an 80% rise in pollution over 3 years
The air we breathe: Mumbai's toxic road junctions can stop traffic, your heart
'Respiratory system is directly connected to environment'