The air we breathe: Mumbai's toxic road junctions can stop traffic, your heart
Updated on Nov 28, 2016 01:24 PM IST
A study led by the National Environmental Engineering Research Institute (NEERI) at 33 traffic junctions across the city found the average concentration of PM10 (particulate matter of less than 10 microns in diameter) to be maximum at Dindoshi at 2,709 micrograms per cubic metre (ug/m3) — that is 27 times the permissible limit of 100ug/m3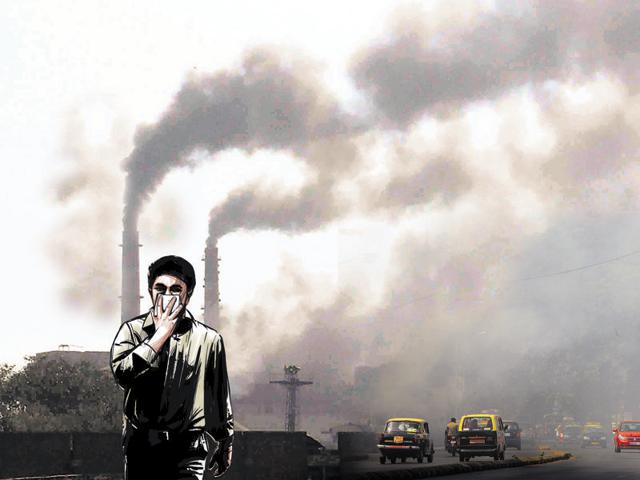 You could be inhaling fine particulate matter up to 30 times more than the safe limit at a traffic junction in the city.
A study led by the National Environmental Engineering Research Institute (NEERI) at 33 traffic junctions across the city found the average concentration of PM10 (particulate matter of less than 10 microns in diameter) to be maximum at Dindoshi at 2,709 micrograms per cubic metre (ug/m3) — that is 27 times the permissible limit of 100ug/m3.
Exposure to high levels of PM10 — they are solid and liquid particles floating in the air — leads to respiratory and cardiovascular diseases and premature death.
This and other official statistics paint an alarming picture of the condition of the city's air.
HT talks to experts to clear the air on how bad the situation is on the ground and what can be done to control it so that Mumbai can finally catch a breath of fresh air.
The study, co-authored by the Indian Institute of Technology–Bombay and the Maharashtra Pollution Control Board, also revealed that heavy traffic during peak hours on weekdays saw average PM10 levels of 2,272 ug/m3 at Borivli station (East) followed by Mankhurd link road at 1,984ug/m3.
Apart from exposing the public to toxic air, the pollution was putting patients at two major government hospitals — termed sensitive zones — at a higher risk. At the Sir JJ Hospital traffic junction at Byculla, PM10 levels were almost 10 times the safe limit at 919ug/m3, and it was seven times (685ug/m3) the safe limit at Sion hospital.
Researchers said there are multiple sources leading to high PM10 emissions at traffic junctions apart from vehicles.
"The signal system of the junction needs to be improved so that pollution from vehicles can be minimised," said Rakesh Kumar, director, NEERI. "When vehicles stop, they keep idling, and during that interim period, values of pollutants go exceptionally high."
Wind conditions, or the lack of them, also create local hotspots of air pollution.
Other PM10 sources include road construction and commercial and residential complexes, improper parking management, slowing of vehicles to find parking space, roadside purchases and roadside eateries.
Even the lowest average PM10 level of 596ug/m3 recorded at Siddhivinayak temple, Prabhadevi, breached the permissible limit by almost six times. Including the two hospitals, the study has pointed out five traffic junctions — Sion flyover junction, Andheri-Ghatkopar link road, Bandra (West), Brihanmumbai Municipal Corporation (BMC) Head office and Bhandup police station — that need interventions such as an outdoor air purifying system that will dilute the pollutants.
Read:
Air we breathe: Act now or forever hold your breath
Traffic junctions at Andheri, Wadala, BKC saw an 80% rise in pollution over 3 years
Personalise your news feed. Follow trending topics