At Kala Ghoda, take a ride on the green side
Updated on Feb 03, 2018 11:26 PM IST
In keeping with the festival's theme of Hara Ghoda, the visual arts section features installations portraying the elements of nature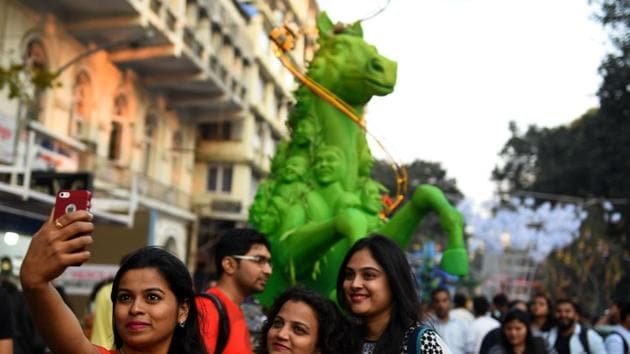 Hindustan Times |
, Mumbai
Krutika Behrawala
There were beady-eyed kids checking out weaverbird nest replicas, college students taking groupfies against a jet black tree made from rear-view mirrors and adults marvelling at tactile maps — Rampart Row came alive with a sea of colour and chatter as happy crowds strolled among the installations on the opening day of the Hindustan Times Kala Ghoda Arts Festival.
In keeping with the festival's theme of Hara Ghoda, the visual arts section features installations portraying the elements of nature. "It's heartening to see that this year's focus is on sensitising people about our ecology and raising awareness about the need to protect Mother Earth," said Pratibha Tripathy, 42, a marketing executive and KGAF regular for five years.
If you haven't made a trip to Rampart Row yet, here's what's in store — among a row of installations that line the street is Tree60 Degrees. Created by four artists, it shows a concrete jungle growing out of a large tree trunk. Nests of weaverbirds are strewn on the ground and a toy railway track is fitted into the bark, with a miniature train zooming in and out.
This one was a crowd-puller. "I love this installation. It represents the scenario across the world, where concrete jungles and development are eating into the very roots of nature," says Helene Harle, 40, a school teacher from France, who has been living in Sion for eight years and was on her second visit to the festival.
Keep walking and you will come upon artist Ritu Dua's Little Pockets of Hope, a clump of artificial trees created using twigs and branches, sprinkled with birds made out of seed pods.
"I gathered these materials during my morning and evening walks in Navi Mumbai. It's completely handmade," Dua says. "On each branch, I've stitched a number of used tea bags stuffed with seeds and fairy lights, so the entire installation glows in the evening."
"My kids enjoyed seeing waste materials turned into art," says Tanya Roy, mother to six-year-old twins, Adi and Ayan. "Hopefully, it will encourage them to reduce waste at home."
I Need Some Air, a 20-foot-tall box lined with potted plants in vertical rows invites visitors to walk in and breathe some fresh air.
There's also Rawness Is Richness by artist Ruchi Sheth, a V-shaped geometric structure created using glass bangles. At some angles, it looks like the portrait of a woman. "I wanted to focus on feminine energy and nothing signifies it better than the rawness of a rural woman. I've used 40,000 bangles to create the structure," says Sheth.
For the first time, the installations also include two tactile maps of Rampart Row created as 3D panels and situated at its entrance. The maps enable visually impaired people to find event venues and identify where each installation is located.
"The idea was to make the festival as inclusive as possible," says architect Parul Kumtha of Nature Nurture Architects and Planners, who designed the maps with her team.
Personalise your news feed. Follow trending topics