Giant carcass washes ashore at Uran, near Mumbai, experts says its a blue whale
This is the 8th whale carcass to have washed ashore on Maharashtra's coast since 2015.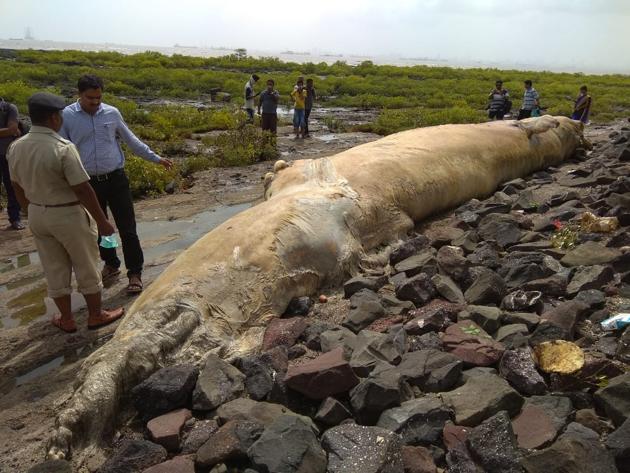 Updated on Jun 15, 2018 01:25 AM IST
A 44-foot-long (13.5m) whale carcass washed ashore at Kegaon beach near Uran in Navi Mumbai on Thursday morning. Forest officials said it was most likely a blue whale.
This is the eighth recorded case of a beached whale carcass in Maharashtra since 2015, and the 85th marine animal death over the past three years.
Fishermen from the area said they spotted the decomposing carcass around 8.30am. "It looks like the mammal died quite a long while back at sea. You can see bones jutting out of the body," said Tukaram Koli, a fisherman from Uran. "A dev maso [whale] washed ashore at Uran coast after almost 40 years. In 1978, a 48-foot-long dead blue whale had washed ashore."
The blue whale (Balaenoptera musculus) falls in the red list of threatened species of the International Union for Conservation of Nature (IUCN) and in schedule 1 of the Wildlife Protection Act, 1986. Blue whales are said to be the largest animals ever known to have lived on Earth.
The state forest department said they had taken samples to confirm the species. "The DNA test results will confirm whether the mammal is actually blue whale. However, the morphological characteristics indicate that the species is a blue whale," said Maneesh Kumar, deputy conservator of forest, Alibaug forest division, who was the officer at site. He added that even though the body was identified around 8.30am, they could only carry out preliminary analysis and sample collection post 12.30pm after the tide receded. "The carcass is not very old as we found traces of blood."
He added that since the 2-km beach was a rocky one, burying the animal was not an option. "We have asked the local fishermen to help us move the body from the area to a sandy beach. If that is not possible then we will remove the skeletal remains and burn the remaining carcass. The skeleton of the mammal is likely to be kept at the Coastal and Marine Biodiversity Centre at Airoli, Navi Mumbai," said Kumar.
Officials from the Maharashtra mangrove cell have collected tissue samples from the carcass as well. "It appears to be a blue whale, and is estimated to weigh around 20 tonnes. There could be many reasons for its death, including infection, old age, shipping noise, if it was hit by a ship, or if there was any kind of disturbance at sea," said N Vasudevan, additional principal chief conservator of forest.
"So many whale carcasses washing ashore is a real matter of concern, and we cannot say with certainty what is the exact cause. We do not have expertise in our country to do carry out post mortem or ascertain the exact cause of death," said N Vasudevan, additional principal chief conservator of forest, state mangrove cell.
Independent experts also said the mammal looks like a blue whale. "It seemed like the blue whale, but it is difficult to assert when it died because the body was severely decomposed," said Ketki Jog, member, Konkan Cetacean Research Team, who conducts research on marine mammal along India's west coast.
Earlier this month, HT had reported a study conducted by the Maritime Research Centre (MRC), Pune, under the Indian Maritime Foundation, found that sound levels in Indian seas, owing to increasing ship traffic, has doubled every decade since the 1950s. An increase in noise pollution at sea could be one of the reasons for whale deaths.
Topics
Close Story