Cidco killing mangroves in Navi Mumbai: Activists
Sep 21, 2018 11:38 PM IST
Activists said Cidco was violating the order and dumping truckloads of debris around the mangroves to reclaim the area
Activists have alleged that despite the Bombay high court ordering the state to protect mangroves across the state, City and Industrial Development Corporation (Cidco) is dumping debris around mangroves at Navin Sheva in Uran.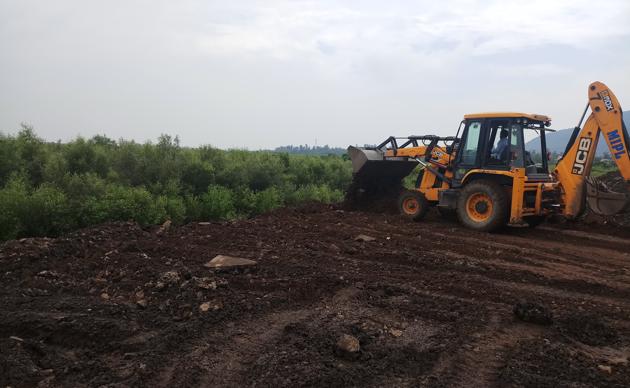 Navin Sheva, popularly known as Nhava Sheva, is 26km from Panvel.
As per court order issued on Monday, a 50-metre buffer zone must be created around mangroves and no construction or debris-dumping should be permitted.
Activists said Cidco was violating the order and dumping truckloads of debris around the mangroves to reclaim the area.
Nandkumar Pawar, an environmentalist and head of fishing community from five local villages, said, "In the name of development, Cidco is killing the mangroves. I'll move the court. Cidco is about to destroy 279 hectares of wetland by converting it into a holding pond. Debris-dumping has been underway at the mangroves for the past 10 days."
On Friday, officials from the forest department visited the site and will prepare a report.
Reclamation of wetlands has taken a toll on the livelihood of the local fishermen, who are now forced to take up low-paying jobs such as driving autorickshaws or work as construction labourers.
Several wetlands in Uran have been reclaimed for various projects by Jawahar Lal Nehru Port Trust (JNPT), Oil and Natural Gas Corporation (ONGC) and Navi Mumbai International Airport is the latest. Activists said mangroves are converted into holding ponds by obstructing flow of sea water. These ponds are later dried and levelled to carry out constructional activities.
Aishwarya Sridhar, who has made a documentary on Panje wetland, highlighted the rich biodiversity in the area.
"Navin Sheva village is four kilometres from Panje wetland. The day isn't far when Panje wetland too will be destroyed. We'll have to pay a heavy price for this mindless destruction."
Debris-dumping has also taken a toll on the biodiversity.
Clara Correia, a professor and birder from Thane who has been visiting Panje wetland since 2011, said, "The wetland is home to several local and migratory birds. Hence, it is necessary to protect it."
Environmentalist Naresh Chandra, who is fighting to save a pond at Sector 19 in Kharghar, said government must intervene to notify wetlands and mangroves in Navi Mumbai, Kharghar, Uran and Panvel, which are part of National Wetlands Inventory Assessment.
"These areas fall under CRZ1 and no construction should be allowed within 50-metre radius," he added.
Priya Rathambe, public relations officer, Cidco, said, "Work of the airport and JNPT is underway simultaneously at Uran. So we'll have to check the jurisdiction. Also, Cidco will not dump debris deliberately or violate court order. Action will be initiated after a probe."
Aparna Vedula, who was a planner for the airport project, said that permission issued to those dumping debris around mangroves needs to be checked.
"Cidco has been following the 2005 guideline of the court, which bars debris-dumping at wetlands or mangroves," she said.
Jayram Gowda, deputy conservator of forest (state mangrove cell), said Cidco might have taken permission from the Centre to dump debris at Navin Sheva because the area comes under Navi Mumbai International Airport.
"I will check whether the area is a wetland and also ask Cidco to submit a report," he added.