Ditch CNG bikes, walk or cycle to help environment: Experts
Hindustan Times |
, Mumbai
Badri Chatterjee and Shreya Bhandary
Jan 03, 2017 12:11 AM IST
Currently, there are no manufacturers of CNG bikes in the city or state
A day after state education minister Vinod Tawde promised 'clean energy' credits to students who use two-wheelers retrofitted with compressed natural gas (CNG), the road transport office (RTO) in Wadala revealed that there are only 25 such vehicles in the city.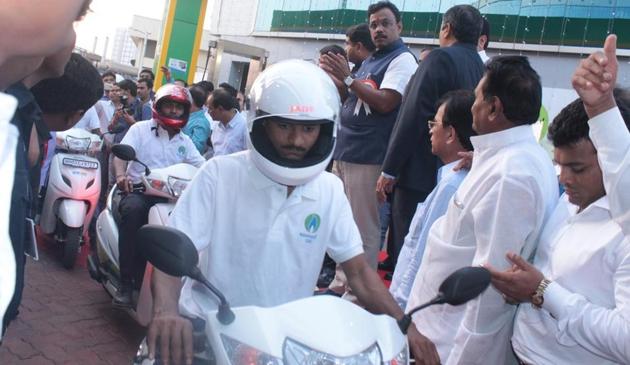 "Currently, there are no manufacturers of CNG bikes in the city or state," said deputy RTO Sanjay Sasane. "Only one workshop in Maharashtra — Eco Fuel Systems Pvt Ltd — has sought our permission to retrofit CNG kits in petrol bikes. This costs between Rs13,000 and Rs15,000, over and above buying a new bike, which starts at Rs44,000," he added.
Eco Fuel Systems Pvt Ltd is a private company that launched the initiative, along with Mahanagar Gas Ltd on Sunday. "Our plan is to install CNG kits in 6,000 two-wheelers over the next three months," said Nemin Vora, managing director, Eco Fuel.
Users must be informed that the retrofitted parts need regular maintenance, added Sasane. "CNG bikes should be serviced by RTOs at select locations," he said.
According to Mahanagar Gas Ltd, refuelling CNG bikes will cost 60 paise per kilometre, compared to Rs1.88 per kilometre for bikes running on petrol.
Air quality experts, however, said that students should use public transport, cycle or walk, as this would improve the city's air. "The student community should be given credits for using public transport and for walking. Irrespective of what fuel is being used, personal transport should not be incentivised," said Anumita Roy Choudhury, executive director, Centre for Science and Environment, Delhi.
She added that Mumbai is one of the leaders in CNG programs, with a number of vehicles having switched from petrol to CNG over the years. "Policies must focus on public and commercial transport and reduce the dependency on diesel vehicles, rather than increasing the number of private vehicles through alternative fuels," said Choudhary.
In 2016, two-wheelers in Mumbai saw a 9.5% increase, from 14,48,759 in 2015 to 16,00,998 in 2016. Currently, there are 2,52,885 CNG vehicles, including vehicles, buses and vans in Mumbai.
Experts pointed out that air quality can improve only if the number of CNG two-wheelers increase over a short span. "Until 50% of these two-wheelers turn to CNG, the city's air quality will not be affected," said Sarath Guttikunda, Urban Emissions (India) director.
Meanwhile, Tawde's decision did not go down well with teachers, parents or students. "This incentive will not only jeopardise the lives of young children, who will now insist on riding to college daily, but will also not help save the environment. Instead, public transport should be encouraged," said Agnelo Menezes, principal of St Xavier's College, Dhobitalao.
Many colleges have recently discouraged students from riding bikes or driving to college, so as to avoid accidents.
Mixed views on decision
Students and parents took to social media platforms to voice their opinions about the announcement made by state education minister Vinod Tawde on Sunday. While many called this "a positive move towards environment awareness", others called this a "senseless incentive".
Parents said the move would only benefit students who can afford vehicles. "Only students who can afford such vehicles will benefit. Instead, the government should focus on incentivising students who are involved in eco-friendly activities," said Aarti Sharma, parent of a Class 12 student of St Andrew's College, Bandra.
What you need to know about CNG bikes
The cost of CNG in Mumbai is Rs40.82 a kg. CNG worth Rs49 will last a biker for 110 km. After three years, commuters need to get their CNG cylinder certified. There are only one or two CNG kit manufacturers in the state. One workshop in Maharashtra has obtained permission to retrofit CNG kit. The cost of retrofitting CNG bikes is Rs13,000 to Rs15,000. It is risky to keep CNG vehicles unused or idle
(Source: RTO Wadala)
"We request locals to park CNG vehicles outside their house. Though the CNG containers are sealed, the risk of untoward incidents is high," said deputy RTO Sanjay Sasane. "If one travels more than 100km a day on these bikes, it will benefit both the environment and the economy."
Read
Ride CNG bike to college in Maharashtra, get more marks
Two-wheelers powered by CNG to hit Mumbai roads soon
"Exciting news! Hindustan Times is now on WhatsApp Channels
Subscribe today by clicking the link and stay updated with the latest news!"
Click here!