Thousands of farmers march from Thane to Mumbai to press for demands
Updated on Nov 21, 2018 03:09 PM IST
More than 5,000 farmers and tribals had gathered at the Anandnagar Octroi Naka in Mulund since Tuesday night.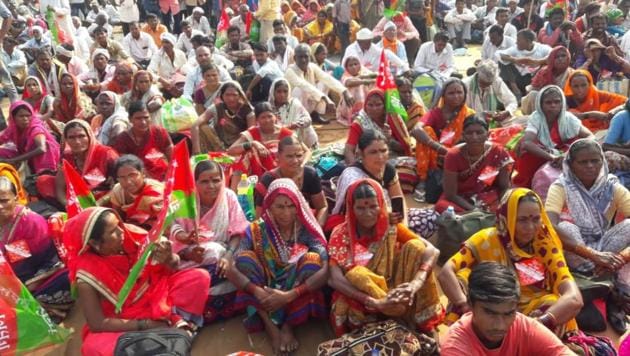 Demanding the implementation of the measures promised by the government, thousands of farmers and tribals started their two-day march towards Mumbai from a suburb of Maharashtra's capital on Wednesday, eight months after a similar protest.
The farmers started walking towards the Azad Maidan in Mumbai on Wednesday to put forth their demands to the Bharatiya Janata Party-led state government, ahead of the general election next year. More than 5,000 farmers and tribals had gathered at the Anandnagar Octroi Naka in Mulund since Tuesday night.
The farmers began their march from Octroi Naka towards a BMC Ground in Chunnabhatti. They will halt at Chunnabhati where they will be joined by thousands of other protesters by Thursday morning. The march is likely to cause traffic jams in Mumbai on both days.
Farmers in Maharashtra, who are struggling to cope with the agrarian crisis and natural calamities, are demanding a proper implementation of the loan waiver package announced by chief minister Devendra Fadnavis in 2017, the implementation of recommendations of the MS Swaminathan Commission, land rights for farmers and also compensation for farm labourers.
"Each of the farmer or tribal is travelling with two kilograms of rice and one kilogram of dal and is set to stay put in Mumbai unless their demands are met," Pratibha Shinde, the general secretary of the Morcha, said.
"On March 12, the government had assured implementation of the Recognition of Forest right Act in six months. More than 2.31 lakh claims out of the total 3.64 lakh claims were pending with respect to forest right. Out of this in six months only 5448 claims are disposed of, this is merely 2% work by the government," Shinde said.
She also said the state should provide compensation in buying foodgrains and other prices in the drought-hit areas.
"The grains should be given at Rs 2 and Rs 3 per kg in all the drought-affected districts. The farmers who have lost their crops due to the drought should also be compensated. We will not return till these prime demands among the others are met. More than 20,000 farmers will march to Azad Maidan on Thursday, though we will ensure there is no traffic jam or any disruption in the city."
Farmers from Nandurbar, Dhule, Parbhani, Jalgaon, Nasik, Amravati, Buldhana, Pune, Gadchiroli and Chandrapur districts of the western state have joined the protest, under the banner of Lok Sangharsh Morcha.
They were joined by conservationist Rajendra Singh and activist Yogendra Yadav of Swarajya Abhiyaan.
Singh, popularly known as "waterman of India", said if the standard of living in the villages and tribal belts is not improved all these people will be forced to migrate to the cities.
"The farmers and tribals are facing basic issues liked scarcity of food and water. All the water from the villages they reside is provided to cities like Mumbai and Thane. They have not received their forest lands, while most drought-affected villages are awaiting compensation," he said.
"The government has many schemes for farmers and tribal on paper, however, their implementation is negligible," he added.
This is the second time this year that the farmers and tribals have pressed for their demands. More than 35,000 farmers from across Maharashtra, led by Left-affiliated All India Kisan Sabha (AIKS), took out a march from Nashik to Mumbai on March 12. Their 180km march over several days culminated in Mumbai on March 11.
The farmers called off their agitation after the Bharatiya Janata Party-led government accepted "almost all" of their demands in writing and assured to implement them in a time-bound manner. But the farmers said the government has failed to keep its promises.
Personalise your news feed. Follow trending topics