First MSP proposal, then meeting, dairy farmers tell Maharashtra government
The government had invited the committee to discuss the issue on Monday.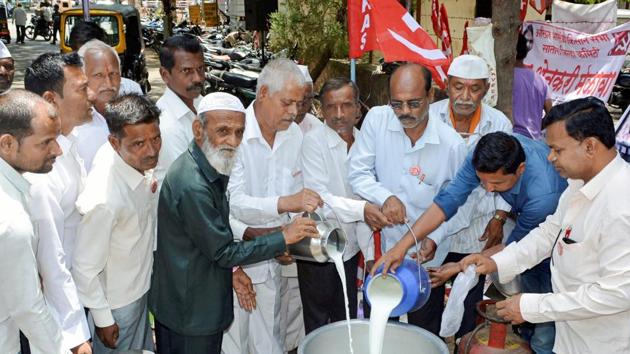 Updated on May 07, 2018 11:50 PM IST
Hindustan Times | By Surendra Gangan
MUMBAI Milk farmers turned down the state government's invitation to discuss the issues related to the minimum support price (MSP) to the milk. The dairy farmers began their seven day protest last Thursday, by distributing free milk. They have also threatened to march to the state secretariat if their pending demands, including minimum support price of ₹27 a litre, is not met by the government.
Farmers from eight districts have been agitating under the banner of the Milk Producer Farmers Action Committee, headed by Ajit Nawale, state general secretary of the Left-affiliated Maharashtra State Kisan Sabha. Alleging that the co-operatives and private milk brands are procuring the milk for ₹17 a litre against the minimum support price of ₹27 fixed by the government, the farmers have demanded that the government take action against violaters and implement the MSP.
The government had invited the committee to discuss the issue on Monday, but the farmers insisted on a firm proposal about the procurement price before any discussion could be held.
We were asked to first speak to water resources minister Girish Mahajan and then Chief Minister Devendra Fadnavis on Monday. We have however, requested them to work out a proposal to ensure that the farmers get ₹27 a litre as the MSP as promised by the government last year," said Nawale.
While the government has agreed to one of their demands of offering subsidy on skimmed milk powder to give relief to farmers, the committee said that this measure would not be enough.
"The subsidy on skimmed milk powder cannot ensure MSP. The issue is not linked to excessive milk supply and hence the drop in price. It is about milk brands selling the milk at ₹42 by procuring it from farmers at just ₹17 to ₹24 a litre," said Nawale.
Dairy development minister Mahadev Janakar said that he has spoken to the committee members and the meeting with the government is expected to take place on Tuesday after the cabinet.
Besides the subsidy for skimmed powder, the committee has demanded that the government should offer a subsidy to meet the gap between the procurement price and the MSP, as a solution.
Dattatray Ghanekar, managing director, Gokul, a leading milk co-operative said that the milk was procured at a lower price as they are sustaining huge losses due to drop in demand and excessive supply.
Close Story