Five housing societies treat 37,000 kg of waste in Mumbai in seven months
Jan 22, 2018 10:10 AM IST
Also, most of the societies are using the manure generated from organic waste at their gardens.
Since July last year, five housing societies in city's western suburbs have sent 37,000 kg less garbage to overburdened dumps by treating it at source. This is more than five times the waste Mumbai generates in a day (7,000kg according to BMC).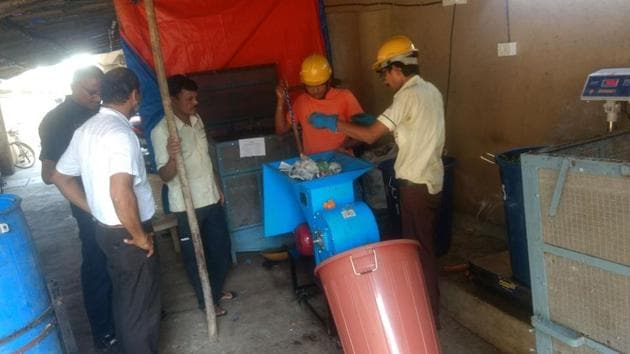 They resorted to three-way segregation of waste — organic, dry and reject garbage — at individual level. Then, recycled dry waste through local NGOs and wet waste through composting. Also, most of the societies are using the manure generated from organic waste at their gardens.
Treating waste at source is essential because recurring fires at the city's dumping grounds in 2015 and 2016 were caused by unsegregated toxic garbage catching fire owing to high methane content, according to the civic body. Residents of Raheja Classique Building 5 in Shastri Nagar, Andheri (West), Green Ridge on New Link Rd, Chikuwadi, Borivli (West), Dev Chhaya, Ram Krishna Nagar, Khar (West), Acme Elite in Poonam Nagar, Jogeshwari (East), and Kalpataru Building 5 and 6, Jogeshwari Vikhroli Link Road, Jogeshwari (East), were all trained and made aware of the benefits of treating waste by Green Communities Foundation (GCF), an NGO.
"Each community has at least a few residents who want to do the right thing for their society and devote their time and energy to a good cause," said Kedar Sohoni from GCF. "They bring about a positive change in the neighbourhood. All they are looking for is some hand-holding, guidance and knowledge related to waste management. We were lucky to have met such residents and our efforts served as a catalyst to make communities waste free."
Nikul Shah, a resident of Raheja Classique, said 18 society members came together to implement the waste management programme. "Initially, there was apprehension on how we would go ahead with it. However, after receiving training and daily implementing the project, we began following the three-bin door-to-door segregation model. We started composting wet waste at five mesh cages after passing the waste through a shredder. With dry waste being recycled, waste being sent to dumping grounds has reduced by 70%," said Shah adding that their aim is to become a zero waste society.
Similarly, all societies have a weighing machine, a shredder and mesh technology to treat their wet waste. "This was our own way to protect the environment, and ensure that the coming generation has clean air to breathe," said Neil Lobo from Dev Chhaya.
Sheela Karunakaran, resident who spearheaded the programme at Acme Elite in Jogeshwari, said, "The projects are being carried out in a smooth manner with an aim to reduce the entire quantum of garbage from each society."
Sohoni added that the largest waste management project was carried out at Kalpataru Estate at JVLR with 204 flats. "They have the largest waste management system with six compost cages and 25 volunteers imparted information about door-to-door segregation, and within record time the society managed to save more than 10,000kg of waste from ending up at the dumping grounds," he said.
Santosh Munot, chairperson of Kalpataru Estate, said, "We only followed the mantra to not mix waste as once it's mixed it can't be fixed. Not even 15% of our total waste is going to landfills and this our way of curbing air pollution. Treating wet waste has made our society much greener."
OFFICIALSPEAK
"Over the past year, there has been a substantial increase in the number of societies in Mumbai, especially along the western suburbs, that have moved away from the conventional form of waste management and decentralised the entire process by treating waste on their own. This is a great boost for the city and has helped reduce the quantity of garbage being sent to dumping grounds by a large margin. We laud the efforts of such societies," said Chandrakant Tambe from the BMC's solid waste management department.