Four-fold rise in vehicles since 2001 worsens air, traffic jams in Mumbai
Experts attribute increase to poor public transport, growing per capita income and aspirational value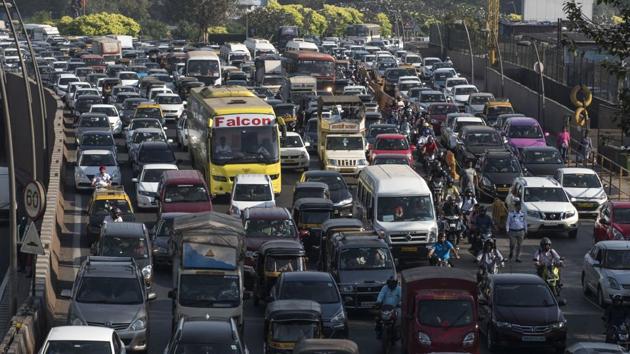 Updated on May 16, 2018 10:56 AM IST
Anguished over traffic congestion and toxic air in Mumbai and its satellite cities? Your commute will get even bumpier and air more polluted, as the Mumbai Metropolitan Region (MMR) has witnessed more than a four-fold rise in its vehicular population since 2001, hinting at people's disenchantment with the rickety public transport (buses and trains).
The number of vehicles grew to 79.71 lakh in March this year from 18.42 lakh in 2001, showed the data from the state motor vehicle department.
Spread over 4,355 sqkm, MMR comprises nine municipal corporations — including Mumbai, Navi Mumbai and Thane — and eight municipal councils. According to the 2011 census report, it has a population of 1.83 crore. Most of the people rely on suburban trains, public buses, taxis and autorickshaws for their commute.
The Thane region — which comprises Thane, Kalyan, Vashi, and Vasai — accounted for the highest number of vehicles at 38.31 lakh till the end of March. It is followed by the Mumbai region (Tardeo, Andehri, Wadala and Borivli) at 33.52 lakh (see box). The rest were registered at the Panvel region, which includes Panvel and Pen RTOs.In the past three years, the MMR has registered almost 20 lakh new vehicles.
Among the total vehicles registered in MMR till March, almost 47.85 lakh were two-wheelers and 16.69 lakh cars. The number of autorickshaws, which is one of the popular modes of public transport in MMR barring island city, was 4.18 lakh. The number of black-and-yellow taxis was pegged at 66,694, and tourist taxis at 1.47 lakh. Most tourist taxis ply as app-based cabs.
Experts and RTO officials attribute the rise in number of private vehicles to mostly poor public transport facilities. Other reasons, they say, are easily available vehicle loans and rising per capita incomes.
"One of the major reasons of growing vehicular population is people's aspiration of having their own vehicle, which considered as a status symbol. The slum in prices has also contributed to it," said AV Shenoy, transport expert.
The nationwide data of vehicular population suggests that only Delhi-National Capital Region had more vehicles (more than 1 crore) till March than MMR. Bangalore, Chennai, Kolkata and Pune are the other metros that have high vehicular population.
Several reports have suggested that vehicular pollution majorly contributes to air pollution in MMR. Congestion on roads is another concern. Despite bumper-to-bumper traffic, several people are buying new vehicles, which has experts and RTO officials worried.
Interestingly, Thane had about five lakh more registered vehicles as compared to Mumbai. An RTO official said that before the Goods and Services Tax (GST) came into force, Mumbai regional transport offices (RTOs) levied a 7% octroi duty on new vehicles, while other neighbouring cities did not have such a provision.
Topics
Close Story