Global warming effect: More heat wave deaths as temperatures rise across India
Updated on Jun 08, 2017 10:10 AM IST
Mumbai city news: A study has said summer temperatures had gone up by more than 0.5 degrees Celsius on an average over five decades, and this rise has increased probability of heat wave deaths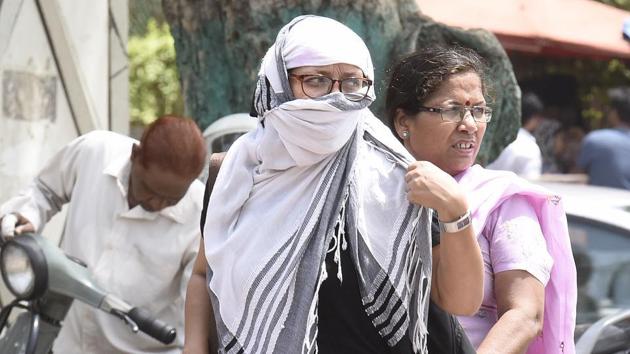 Rising summer temperatures are leading to more heat-related deaths in India.
As parts of India reel under a heat wave, a study has said summer temperatures had gone up by more than 0.5 degrees Celsius on an average over five decades, and that this rise has increased the probability of deaths caused by heat by 146%.
The study by University of California, Irvine (UCI) with co-authors from the Indian Institute of Technology – Bombay (IIT-B) and IIT-Delhi, analysed daily temperatures from 395 weather stations between 1960 and 2009, and the death rates during those years.
They found there were more heat wave days, and that duration of heat waves had increased by 25% in most regions.
There was a moderate rise in summer temperatures, but this made it one-and-a -half times more likely for a heatwave that could kill more than 100 people.
The study, 'Increasing probability of mass mortality during Indian heat waves' was published in the journal Science Advances on Tuesday.
A heat wave is when temperatures rise above 40°Celsius in the plains and 30° Celsius in the hills, and is more than four degrees above the normal for the period being studied.
High temperatures not only affects health, but also decreases the quality of the air you breathe, lowers crop yields, increases energy consumed and makes droughts worse.
The study found there were more (by 50%) heat waves in southern and western India between 1985 and 2009, when compared to 1960 and 1984.
Heatwave deaths almost doubled from 1,300 in 2010 to 2,500 in 2015. The 11-member team concluded that a predicted rise in average temperatures between 2.2 degrees Celsius and 5.5 degrees Celsius by the end of this century is likely to render the poorest parts of the Asian subcontinent (including northern, southern and western India), the Middle East, Africa and South America "practically uninhabitable for months at a time".
"The impact of global climate change is not a spectre on the horizon, it is real. It's being felt now all over the planet," said co-author Amir AghaKouchak, UCI associate professor of civil & environmental engineering. "It is particularly alarming that the adverse effects are pummelling the world's most vulnerable populations."
"There is no doubt temperatures in India are rising, and heat waves prevail even early on in summer. While the IMD is doing a good job with forecasting heat waves, awareness on its impact is lacking," said Subimal Ghosh, a co-author and professor at the department of civil engineering, IIT-B.
Researchers said governments and international organisations should also work towards mitigating the impact of climate change in the most vulnerable parts of the country.
"Given the quantifiable impacts of climate change in India and other developing countries in the coming decades, both rich and poor countries should be ramping up efforts to combat climate change instead of turning their backs on commitments made to the international community," said co-author Steven J. Davis, associate professor of Earth system science, UCI, referring to US President Donald Trump withdrawing from the Paris Climate Accord.
The study also found a connect between heat related deaths and income groups – there were more deaths among the poor, when compared to the rich.
"In addition to India, populations in poorer developing countries in equatorial regions are particularly hard hit by these extreme heat events,"
said lead author Omid Mazdiyasni, a UCI graduate student in civil & environmental engineering.
"They lack air conditioning that people in richer countries rely on when the heat is unbearable, and they don't have funds to escape to cooler climates."
IMD started recording heatwave related deaths from 1967. The following years had no deaths:
Years when the death toll due to heatwave crossed 500
Personalise your news feed. Follow trending topics