Herd of deer spotted eating garbage at Mumbai's Sanjay Gandhi National Park
SGNP officials blame film crew, say they have fined them
₹
5,000 for leaving trash at the site.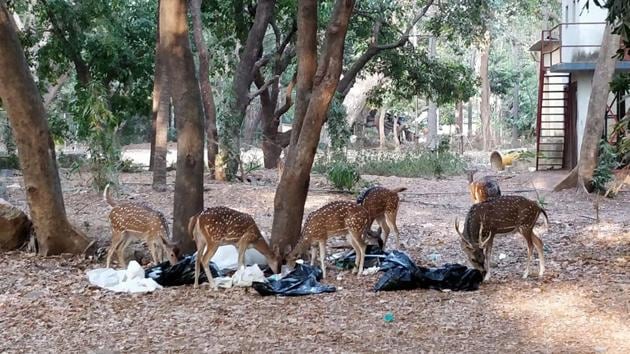 Updated on May 18, 2018 12:42 PM IST
Images and a video of a herd of spotted deer feeding on garbage on May 12, near the Sanjay Gandhi National Park (SGNP) office area – towards the Borivli end – has gone viral on social media.
SGNP officials said they had taken cognisance of the issue and fined a Mumbai-based film shooting group ₹5,000 for leaving the trash at the site.
On Thursday, wildlife warden, Thane, and animal rescue officer from Resqink Association for Wildlife Welfare, Pawan Sharma filed a complaint, raising the issue with SGNP authorities.
"It is not only the duty of the forest department, but also of the visitors, to ensure that garbage is well-managed. SGNP is a protected area and needs to be respected as one. There is an identity shift, where people consider it a picnic spot or a shooting venue," he said.
Citizens need to be reminded that their actions can affect the wildlife, said Sharma.
Meanwhile, SGNP officers said it was a one-off issue and the park is overall much cleaner than others across the country.
"We had permitted a group to carry out a film's shooting near our office quarters on May 12. Ensuring garbage management was one of the conditions. While they collected all the garbage and went to call a truck to remove it, the herd of spotted deer reached the site and began feeding on it," said Anwar Ahmed, director and chief conservator of forest, SGNP. He said that his staff will ensure that such an incident is not repeated in the future.
Close Story