In Mumbai wetland, a spectacle in pink
May 16, 2020 11:59 PM IST
The deep pink water, located towards the south-eastern end of the wetland, was spotted by HT photojournalist Pratik Chorge on Thursday. The pink water was not there till late last week.
First, thousands of lesser flamingos, likely from Gujarat, coloured the Talawe wetlands near NRI Complex in Navi Mumbai pink during the lockdown, their numbers bolstered by the sheer lack of human activity.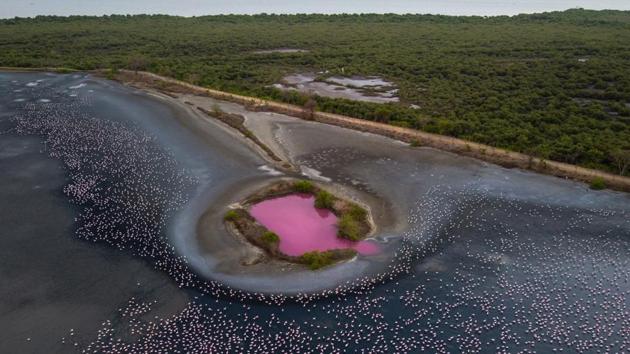 Now, the water in part of the wetland itself has turned pink, probably due to an explosive blooming of red algae that thrives in saline water, especially as the summer picks up and the wetland loses water.
The deep pink water, located towards the south-eastern end of the wetland, was spotted by HT photojournalist Pratik Chorge on Thursday. The pink water was not there till late last week.
The bloom has been identified as rare and first-of-its-kind occurence for Mumbai Metropolitan Region by Bombay Natural History Society (BNHS) that plans to take samples of the water for study. However, a local resident, Seema Tania from NRI Complex, Seawoods, said she spotted the pink wash across a much larger area at the same creek in 2016.
"Almost 500-600m patch of the creek turned bright pink and we thought chemicals had been dumped in the creek," she said.
While researchers were unsure of what may have caused it, BNHS and independent microbiologists presume that the colour is from microscopic algae. "Owing to high salinity in the area, it looks like an algal bloom. Our researchers have never witnessed something like this along Mumbai's creeks," said Deepak Apte, director, BNHS. "Around the world, such a phenomena has been observed regularly with red algae but it has to be investigated how it has appeared along the Mumbai creek."
Flamingos are known to feed on this algae, crustaceans, shrimp, and aquatic plants, which gives them the pink colour, said Apte. The birds also feed on zooplankton which feeds on the algae.
Dr P Sathiyaselvam, assistant director (wetland conservation), BNHS said, "This is clearly an algal bloom. We have observed the same at the northern portion of Chilika Lake (in Odisha) during early winter months over the years, and also towards the northern end of wetlands in Thoothukudi in Tamil Nadu. This is temporary and the water clears out within 48 to 72 hours for small patches."
Another BNHS official said certain microscopic algae and bacteria produce carotenoids, specifically beta-Carotene (a provitamin giving a red-orange pigment that's found in high numbers within the algae), which is consumed by flamingos, giving them the bright pinkish-red feathers as they mature from juveniles to adults. "If this is a natural phenomenon, vigorous growth of algae or bacteria having this beta-Carotene gives this type of characteristic colouration to the water. It is also related to increased evaporation, salinity, and the current hot and humid weather conditions," said Rahul Khot, assistant director (in-charge of the flamingo monitoring program). "We do not know the impact on birds due to this change in water colour."
A microbiologist said there are a group of bacteria called halobacteria that grows in extremely high saline environment, which give a bright pink or reddish appearance. "There is scientific literature that states that this carotenoid red pigment is secreted by halobacteria. This could be mostly coming from the algae present in the creek," said Dr Rohini Kelkar, director of laboratories and head of microbiology, Tata Memorial Hospital. "Bacteria produce a whole range of pigments and reactions...The caretonoid pigment probably attract the birds that are sensing the nutrient value in the water. However, these are still assumptions, and can only be verified through a detailed sampling study."
Ornithologist, naturalist and writes Sunjoy Monga said a similar discolouration of water with a pink hue was witnessed at a flamingo habitat in Porbandar in May, 2007. "This happened at the edges of the creek cramped with flamingos with high salinity displaying a pinkish maroon wash to it. While we took photographs, we had no idea what caused this."
Tania explained that in 2016 when residents had shared images with Spanish researchers, they confirmed similar events at flamingo habitats in Spain. "We were told the algae and bacteria result in such changes when temperatures increase. However, such incidents were not observed in Navi Mumbai over the past two years," she said. "From the available details of the presence of this phenomenon in Mumbai, there is no other possible explanation other than the presence of red algae at this flamingo feeding ground," said Dr P Pramod, principal scientist, Sálim Ali Centre for Ornithology and Natural History.
A similar example of what has been observed in Navi Mumbai was recently witnessed across a massive stretch at the Edgars Creek in Melbourne, Australia, that started on May 10 and intensified subsequently. The source of the pink water is being investigated, the Epoch Times reported. Other examples of changing water colour to pink across a much larger area has been observed at Cameron Falls in Waterton Lakes National Park, Canada and the Dead Sea, a salt lake between Israel and Jordan, to name a few.