Maharashtra government announces subsidy on milk powder, but unhappy farmers call for strike continuance
The state's farmers are protesting for a minimum support price for the sale of milk.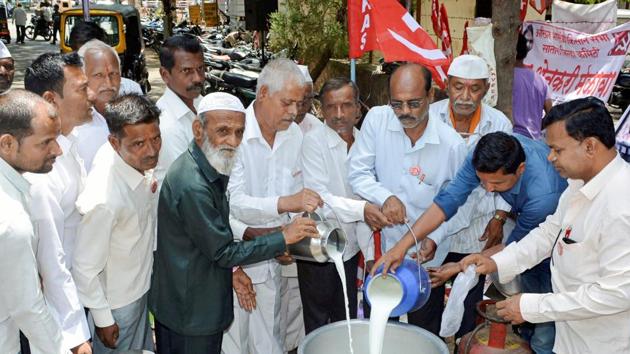 Updated on May 09, 2018 12:19 AM IST
Hindustan Times | By Surendra Gangan
, Mumbai
The state government announced the subsidy of ₹3 per liter for the conversion of excessive milk into skimmed milk powder to ensure higher price of the milk procured from the farmers. The decision was taken in response to the farmers' ongoing protest for a minimum support price ascertained by the state government last year. This latest move however, is still fallen short and the farmers have announced that they will continue their ongoing strike.
The state's daily consumption of milk is 94 lakh liters against the production of 132 lakh liters resulting in the conversion of about 38 lakh liters of excessive milk into milk powder or butter by the co-operatives and private players. A decrease in export of milk powder has resulted in a reduction in the liquid to powder conversion and has subsequently triggered a drop in procurement prices. The milk production co-operatives claimed to have been sustaining a loss of ₹3.24 per liter in conversion into powder and which they reportedly passed on to the farmers.
By extending the subsidy of ₹3 a liter to the co-operatives, the government expects conversion of 6 lakh liters daily. "The subsidy is given to the milk producing co-operatives and private brands with the rider of producing 20% more powder than their current production. With more production of powder, the procurement of milk is likely to go up and in turn, the procurement price too is expected to increase," said an official from the dairy development and fisheries department.
21 private brands and seven co-operatives convert excessive milk into the powder. They, as well as the agitating farmers have expressed their dismay over the decision. A number of farmers kicked off a seven-day strike beginning on Thursday under the banner of Milk Producer Farmers Action Committee. Following the state's subsidy announcement, they have decided to extend their protest.
Ajit Nawale, who is leading the strike said, "The government decision is unlikely to result in the rise of the procurement price which has fell to ₹17 a liter. Since the price of the international rates of the powder has fallen drastically, the subsidy would not result in encouraging the milk producer brands to go for more production of the powder. Instead of this, the government should have declared subsidy to the farmers making up for the gap between the MSP and the procurement price."
"Government subsidy is just 20% of the losses we have been suffering in coversion. It would not help in improving the procurement rate given to the farmers," said Arun Narke, ex-president of the Indian Dairy Association.
Close Story