Maharashtra plastic ban: Govt refuses to give anymore incentives to manufacturers
Updated on Jun 23, 2018 12:02 PM IST
State environment minister Ramdas Kadam compares the plastic ban to demonetisation, hinting that the notes ban was taken in a haste.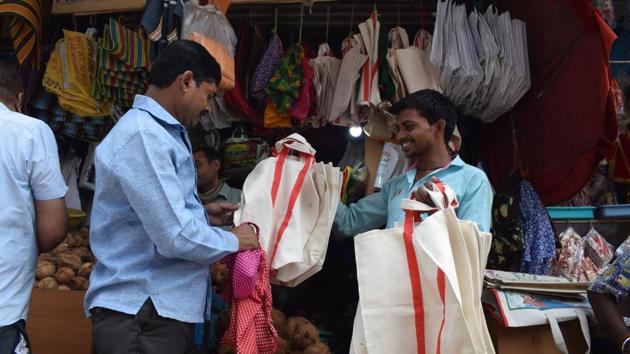 With the plastic ban coming into effect from Sunday, the Maharashtra government has stood its ground and refused to grant any relaxation or extension to manufacturers and retailers. State environment minister Ramdas Kadam said that they will make Maharashtra free of plastic in the coming months. The state government will ensure that common people are not harassed in the name of the ban, said Kadam.
However, the state may give some conditional relief to businessman into retail and wholesale packaging if they ensure collection and recycling of the material. The issue is expected to be discussed in the next meeting of the high-level committee empowered to take decisions on the ban.
HT was the first to report about the plastic ban on January 12 this year.
"The plastic ban decision was not taken overnight like demonetisation. For the last many months, we have been running awareness campaign about it. Except a few, most people are happy about the move," Kadam said.
The challenge before the state government is to stop plastic material coming from neighbouring states, especially from Gujarat, for which it is planning to bring in some strict provisions.
The flying squad of the Maharashtra Pollution Control Board (MPCB) recently seized 16.7 tonnes of banned plastic bags and products worth more than Rs23 lakh entering in the state from Diu Daman.
So far, MPCB has issued show cause notices to 171 plastic manufacturing units, of them 19 have been forced to shut down.
The state government has also kept their doors open for suggestions for retail and wholesale packaging. After meeting with retailers' associations, Kadam told reporters that the government may give them some exemptions subject to some condition.
Representatives from Thermocol units have requested the environment minister to allow their products being used for decoration purpose for this Ganesh Chaturthi festival. The issue will be discussed before the empowered committee, Kadam said.
Meanwhile, the MPCB has also launched the mobile application 'Plastic Bandi' to ensure people are aware of the rules. The app provides detail information about the ban and the products covered under it. Citizens can also make suggestions and objections to the ban.