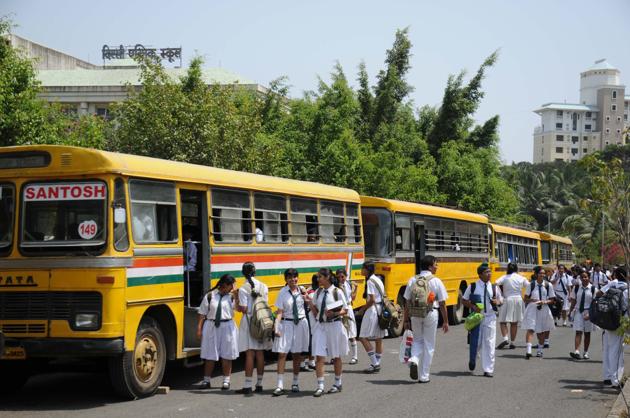 Maharashtra Transport department puts onus of kids' safety on parents
Mumbai city news: Says parents must scrutinise vehicles before hiring them to ferry children from home to school and back
PUBLISHED ON JUN 28, 2017 10:38 AM IST
Referring to the accident that occurred on Tuesday morning, in which six school children got hurt after the private van they were travelling in toppled, several city schools complained that such vans were operating illegally. They even alleged that the state transport authorities did nothing to rein in van operaters ferrying school children illegally.
Commenting on the issue, Satish Sahastrabuddhe, additional commissioner, transport department, said "We cannot stop private vans and auto-rickshaws from ferrying school children. The onus is on parents. They need to check legitimacy of the vehicles before hiring."
While a notification issued by the Union ministry of road transport and highways on September 8, 2016, defines a school bus as any vehicle carrying more than 13 children, state transport authorities said rules in Maharashtra were different.
Read: Van ferrying six schoolchildren overturns on Mumbai flyover; students escape with minor injuries
"In 2013, the state government amended norms and allowed private vans and auto-rickshaws owners to ferry children if the have permits," said Sahastrabuddhe.
Most parents said they preferred private vans, as they provide door-to-door service, were faster and affordable. "School bus fee is astronomical. Even for short distances, charges are as high as Rs1,200. In comparison, vans are cheapers. Also, they pick up and drop children home on time," said Prasad Tulaskar, a parent and Dadar resident.
'Unsafe for children'
However, principals and bus operators said the parents were risking the lives of their children by opting for cheaper mode of transport.
"As a school, we only acknowledge two forms of transport — buses hired by us and parents dropping children. But some parents continue to rely on vans without our consent and we cannot do anything about it," said Rakhi Mukherjee, principal, Utpal Shanghvi School, Juhu.
She added that unlike private vans, the school ensures that buses hired by them adhere to the norms which is not the case with a private van or auto-rickshaw ferrying school children.
"We also negotiate with the contractors and bring the bus fee down whenever possible," Mukherjee said.
Speaking about the high cost, bus operators said adherence to safety norms ups the fee.
"The cost of a bus doubled to Rs21 lakh. Rising fuel prices and salaries of attendants, among others, adds to the cost. Hence, we cannot afford to lower the fee," said Ramesh Maniyar, a bus operator from Mumbai.
Stringent rules
The school bus safety norms were supposed to be made stringent from the ongoing academic year after the Bombay high court asked the transport authorities to ensure that private vehicles ferrying school children are not allowed to ply if they do not have a agreement with the school. This would help schools to ensure that private vehicles abide by the safety standards.
Close