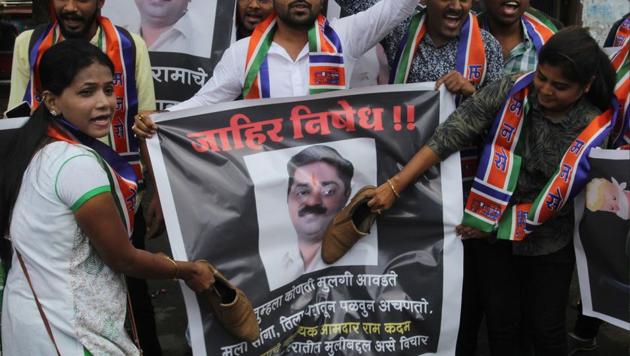 Maharashtra women's commission gives BJP MLA Ram Kadam 8 days to clarify on 'kidnap girls' remark
During a dahi handi event earlier this week, Kadam was seen saying in a video that he would kidnap girls to marry them off to men who they had rejected.
UPDATED ON SEP 07, 2018 01:16 AM IST
In more trouble for BJP's Ghatkopar MLA, Ram Kadam, the Maharashtra State Commission for Women (MSCW) on Thursday issued a notice asking him to clarify his stand on his "kidnap girls" remark in eight days.
During a dahi handi event earlier this week, Kadam was seen saying in a video that he would kidnap girls to marry them off to men who they had rejected. The video was widely shared, and both Kadam and his party have been criticised by opposition parties and activists for the statement.While the BJP has officially not take any action against him, party leader Shaina NC publicly criticized him for his remarks on Thursday.
The state women's commission's chairperson, Vijaya Rahatkar, said they have sought a clarification from Kadam on new stories about his statement. "The media has reported about controversial remarks made by MLA Ram Kadam during a dahi handi festival. The commission has taken suo motu cognisance of the stories. The legislator has been sent a notice seeking clarification in eight days," Rahatkar said.
The MSCW's action comes a day after Kadam publicly apologised for his remarks, which he maintains were taken out of context. Rahatkar did not specify what kind of action would be taken against Kadam if his reply is not satisfactory.
Meanwhile, BJP leader Shaina NC came out openly against Kadam on Thursday. "I was quite shocked and I will say it quite openly," she said at an event in Delhi, and added, "There was a legislator from our own political party who was talking about kidnapping girls and it shocked me." She said she was speaking as a woman leader, not the BJP spokesperson.
"It shocked me for two reasons. One is, women in India are viewed sometimes as only an object. It's time we demystify this kind of image of women and realise that , on one hand you talk about Saraswati, Durga and Lakshmi you pray and worship women, and on the other you think you can go out and abuse her and get away,"the BJP leader said.
So far, other BJP leaders have remained tightlipped about Kadam's remarks.
While there were speculations that Kadam would be removed as the party's spokesperson, there was no official announcement from the party till late on Thursday.
A group of activists from the Akhil Bhartiya Vidyarthi Parishad (ABVP), a students' organisation affiliated to the Rashtriya Swayamsevak Sangh (RSS) staged a protest against Kadam in his constituency (Ghatkopar). Meanwhile, the Mumbai Dahi Handi coordination committee has decided to boycott his event from next year. Bala Padelkar, the chief of the coordination committee, said no govinda pathak will participate in the dahi handi festival Kadam holds.
The Opposition continued to attack the BJP MLA. Opposition leader in the Assembly, Radhakrishna Vikhe-Patil, threatened to stall proceedings in the legislature unless action was taken against Kadam, and the NCP demanded his removal as MLA by bringing a resolution against him in the state Assembly.
Nawab Malik, NCP's chief spokesperson, said, "Kadam should booked for outraging the modesty of women and should also be expelled from the MLA position, like it was done while suspending BJP's Prashant Paricharak as MLC.
In March, 2017, Paricharak had joked during an election campaign that soldiers posted at the borders distribute sweets when their babies are born, even though they have not gone home in a year.
A former Congress minister, Subodh Saoji, from the Buldhana district of Vidarbha, also made a controversial statement by declaring a cash prize of ₹5 lakh for bringing the tongue of the BJP MLA.
Shiv Sena leader and Rajya Sabha MP Sanjay Raut demanded Kadam's suspension. "A motion to suspend Ram Kadam should be moved by all political parties in the Assembly, because Kadam's statement is an insult to all women," Raut said. He added that if the BJP gives importance to women's issues and their security, then they will take action against Kadam.
Meanwhile, Kadam again apologized for his remarks on Twitter. "I was quoted out of context by my political opponents. I have repeatedly apologised for the same as it has hurt feelings of my mothers and sisters. With respect to all of them, I am again apologising for it."
Close