Major fire broke out at Arunachal Bhavan in Navi Mumbai, no one injured
It took eight fire engines and two hours to douse the fire in the Vashi high-rise, which is suspected to have been caused by a short circuit.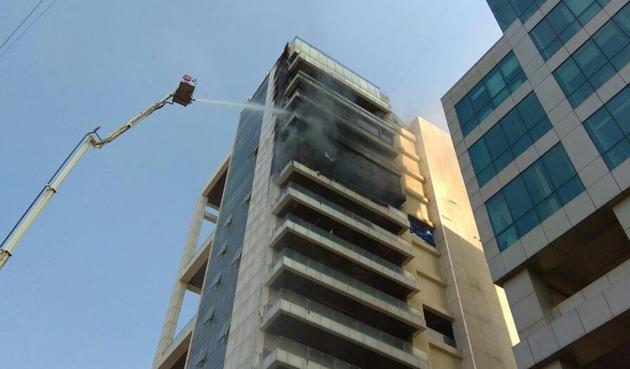 Updated on Nov 07, 2017 12:27 AM IST
A major fire broke out at Arunachal Bhavan in Vashi on Monday. Fire brigade officials took around an hour to douse the fire and no one was injured in the incident. A senior fire official said the building's fire NOC had not been renewed this year.
Officials said fire broke out on the 10th floor of the building around 1pm and went up to the 14th. The entire building was evacuated within a few minutes. However, three boys, who were working on the 13th floor, got trapped as the passage to the staircase was filled with smoke. They were later rescued by fire officials who reached them using the bronto skylift.
"Our officials rescued them in time and all three escaped unhurt. Eight fire engines from Vashi, CBD, Nerul and Airoli were rushed to the spot. Our officials managed to douse it in less than an hour," said Prabhakar Gade, fire in-charge of NMMC, while adding that the fire NOC of the 14-storey building was not renewed in 2017.
Gade said, "The building had a fire NOC in 2016. However, they did not renew it this year for reasons we don't know yet. We have taken the matter seriously and the necessary actions will be taken soon. The value of the property damaged in the accident has not been calculated so far."
The officials later started cooling operations that took almost two hours. "The exact reason behind the accident has not been ascertained. Since some wiring work was being done on the 10th floor, n electric short circuit may have caused the accident. We will investigate the matter," another officer said.
Around 30 cancer patients and their attendants were in the building when the fire broke out. They were asked to wait on the road till the building was announced safe. Tapong Taloh, an attendant of one patients, said, "We were resting in our rooms when we spotted smoke emanating from the building. We were asked to come out as soon as possible. Thankfully, the fire did not affect the rooms where the patients and attendants were."
Close Story