Mumbai-Pune Expressway toll to continue for another 12 years
130,402 vehicles use the expressway every day and the contractor has so far collected
₹
5,762.77 crore till June 2018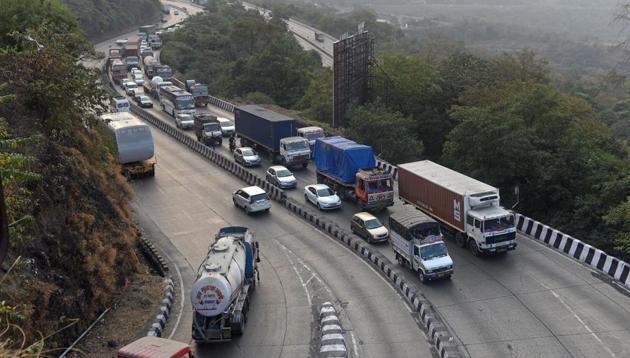 Published on Sep 12, 2018 12:17 AM IST
Hindustan Times |
, Mumbai
Kanchan Chaudhari
Motorists will have to continue paying a toll for using the Mumbai-Pune Expressway for the next 12 years, as the state Public Works Department has decided neither to discontinue toll collection nor grant an exemption to any specific category of vehicles.
The decision was submitted in an affidavit to the Bombay high court (HC) by the Public Works Department (PWD) on September 5. It states that the government considered its financial resources for compensating the expressway's contractor if the toll was discontinued, and will, therefore, continue to collect the fee through the Maharashtra State Road Development Corporation (MSRDC) from all motorists till the end of its concession period (April 30, 2030).
The affidavit states that according to July 2018 statistics, 130,402 vehicles use the expressway every day and the contractor has so far collected ₹5,762.77 crore till June 2018 from motorists.
The affidavit was filed in response to a plea by Thane-based activist Pravin Wategaonkar who sought the HC's direction about exempting light motor vehicles and state transport buses from paying toll on the Mumbai-Pune Expressway, after chief minister Devendra Fadnavis announced in April 2015 that Maharashtra would be "toll-free".
Wategaonkar's petition stated that although the state government had formed an expert committee in December 2014 to study the feasibility of stopping or granting exemptions to certain vehicles across 65 toll stations across Maharashtra, they adopted a different procedure for the Mumbai-Pune Expressway.
However, the recommendations submitted by the Sumit Mullick committee, which took 10 months to study and prepare a report on this tollgate, did not translate into any executive decision.
Wategaonkar's petition also claimed that this expert committee had calculated the compensation the government would owe to the contractor — in case of toll stoppage — to be ₹1,362.27 crore. But by February 2018 itself, the contractor had collected ₹1,507crore — ₹145 crore more the amount fixed for complete buyout. Calling the continued toll collection by the contractor "a wrongful gain", Wategaonkar called for its immediate stoppage on the Mumbai-Pune Expressway.
Close Story