Mumbai transgender assaulted by Thane MNS workers attempts suicide
Hindustan Times |
, Mumbai
Yesha Kotak
Jun 01, 2018 05:11 PM IST
The Govandi resident said she got upset after watching photos and videos of the assault, which went viral on social media.
A 23-year-old transgender, who was assaulted in Thane on Sunday by Maharashtra Navnirman Sena (MNS) workers, is in hospital after she attempted suicide by consuming some medicines and a cleaning agent.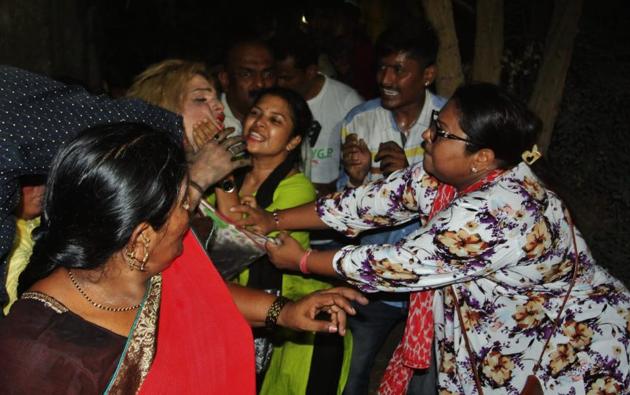 The Govandi resident, who was hospitalised on Tuesday night, said she got upset and depressed after watching photos and videos of the assault, which went viral on social media.
MNS workers said they had assaulted three transgenders as they were involved in prostitution. The 23-year-old refuted the allegations, and said that she was, in fact, a social worker attached to Akhil Kinnar Association, a group that represents transgenders and eunuchs. "I didn't go there as a sex worker, I work as a social activist and had gone there to hand out condoms to those who work there."
Talking about the attack, she said: "As soon as my colleagues and I got down from the auto, several MNS men and women pulled us by our hair and started hitting us."
She explained that it was part of their job to supply condoms to sex workers, and that they visit Majiwada area — a major stop for trucks — twice a week. "Irrespective of who we are, even if we were doing something wrong, they should have approached the police. Why did members of a political party take law into their own hands? Is there no humanity left in this country," she said. "We never get any jobs, and have few options but to beg or become sex workers. If that option is also taken away, what will we do?"
Authorities at Rajawadi hospital, where she was treated for two days, said she was brought in conscious but had consumed medicines and phenyl. "The patient was stable and was kept under observation, but is not critical. Counselling was done as a part of treatment, so that the patient does not try it again. After two days of admission, the patient was discharged on Thursday and advised to undergo psychotherapy," said a hospital official, requesting anonymity.
An official from Shivaji Nagar police station said they had informed Kapurbawdi police station about the suicide bid. Senior officials at Kapurbawdi police station, where an FIR has been registered against 10 men and five women for rioting and causing hurt, said the suicide bid would be investigated by Shivaji Nagar police station as it took place in Govandi. "The incident will not be part of the case registered in Thane on Sunday," said the official, on condition of anonymity.
'WE FACE SOCIAL STIGMA, POLICE IGNORE OUR COMPLAINTS'
Often abandoned by their families, transgenders are treated shabbily, live in the periphery of society and struggle to make ends meet, which puts them at a greater risk. A resident of Bandra, Sonalee – she uses only one name - was sexually assaulted in 2016 and approached the police after the incident. The police have registered an FIR, but two years after the incident, the case has made no progress. "Is it our fault that we are born this way and our parents abandon us? We are studying and have respectable jobs, but if we make a complaint about sexual assault, the police ask us how we can be raped and ignore the complaint," Sonalee said.
Salma Khan, a Lok Adalat panel member and president of Kinnar Maa Trust, said being a transgender in India was a huge social stigma and that government bodies must work with the larger society to sensitise people. "We are active socially and have been working on various issues along with the government such as Swachh Bharat, education and tobacco awareness drives, but our community continues to be looked down upon. The police should undergo a sensitisation workshop so that they can understand our problems. We are a part of the society, and there shouldn't be this discrimination," Khan said.