Mumbaiites, get ready to hit the pedal again: City's Sunday cycling track reopens
Published on Jan 28, 2018 12:00 AM IST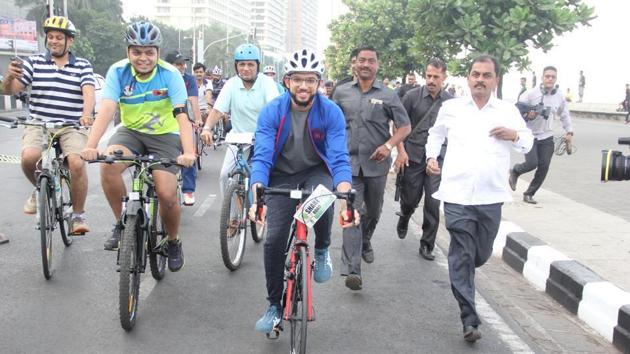 Hindustan Times |
, Mumbai
Eeshanpriya M S
There's good news in store for Mumbai's cycling enthusiasts. After three weeks of inactivity, the city's first Sunday cycling track between Marine Drive and the Bandra-Worli sea-link is back on course from today morning.
However, the track will temporarily function only between Marine Drive and Girgaum Chowpatty, instead of running all the way up to the Worli end of the Bandra-Worli sea link, till some security issues are sorted out.
This is the first Sunday of 2018 that the cycling track will be functional.
Municipal commissioner Ajoy Mehta met with joint commissioner of police (Traffic), Amitesh Kumar, on Friday, to iron out issues that led to the closure of the cycling track.
During the meeting, Kumar expressed his reservations about safety precautions taken by the cyclists.
The Brihanmumbai Municipal Corporation (BMC) then decided to draft the specifications for safety measures and equipment for cyclists. This will be implemented by the organisers, Pedal Up, an initiative by Smart Commute Foundation, so that the cycle track can run smoothly every Sunday. Once these safety measures are standardised, the track will be available on its full length of 11 kilometers, between Marine Drive and the Worli end of the sea link.
According to Kiran Dighavkar, assistant commissioner of the A ward, after the cycle track was inaugurated on December 3, it was met with several hurdles within a week as the traffic police refused to give the BMC permission to operate it up to the sea link.
Dighavkar said, "The traffic police had concerns about the quality of cones being used to barricade the track and separate it from the street. Especially on roads such as Pedder road, which is already very narrow and has a slope."
Amitesh Kumar said, "The bollards, or cones used to demarcate the track were light weight, and could have easily been blown away by even a slight breeze. In Friday's meeting, we told the BMC that the track needs heavier bollards, traffic wardens, and more traffic vans to patrol the street. Women and children use the track, so safety standards have to be high. Until these are met, the track will be open only up to Girgaum."
Kumar stated various reasons as to why the track wasn't able to function earlier this month. It did not function on January 14 as the President was visiting the city, and Marine Drive was manned by traffic police owing to this VIP movement. On January 21, the streets were clogged because of the marathon. According to Dighavkar, on January 7, marathon runners were practicing on the track, and did not let cyclists use it.
The cycle track is the brainchild of Shiv Sena leader Aaditya Thackeray, and was first inaugurated on December 3, 2017. It was planned from the National Centre for the Performing Arts (NCPA) at Nariman Point to the Bandra-Worli Sea Link, between 6 am and 10 am, every Sunday.