Mumbaiwale: The taekwondo champ who returns to his slum to give kids a helping hand
Onetime slum resident Jaydeep Kadam, gives local kids a fighting chance at success with free martial arts training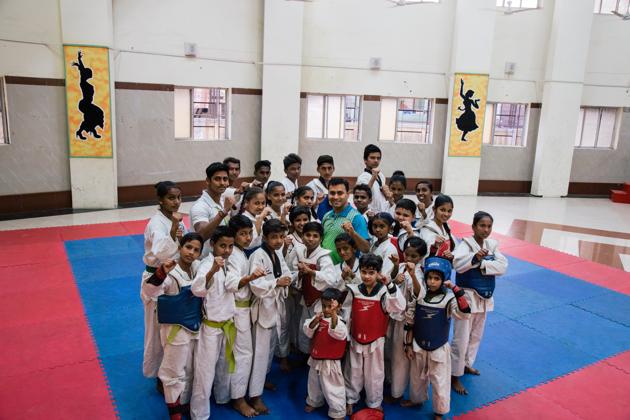 Updated on Mar 28, 2019 08:09 AM IST
Jaydeep Kadam, 32, can't remember a point in his childhood when life wasn't a struggle. His family lived in a rented home in a slum in Chembur. His father was a postman at the GPO in Fort. His mother was a housewife. Every day was an exercise in staying afloat and stretching the budget.
Luckily for Kadam, there was one bright spot. He shone during the school sports hour, prompting his coach, Robin Menezes, to ask his parents to send him in for additional training. They did and he began getting lessons in taekwondo.
It was a move that taught Kadam more than the Korean martial art. He was coached for free, with Menezes picking him up and dropping him to training sessions and competitions. So he worked hard enough to make it to district-, state- and eventually national-level contests. "But true success came when I fared poorly in my Class 10 English paper but could apply to good colleges under the sports quota," he says. "It made me realise that sports can open doors and show you the way up."
Kadam graduated in Physical Education from Somaiya College. By 26, he was thinking of giving back, coaching children of labourers in martial arts. He started training the students of a municipal school near his slum, taking over formally in 2013.
"We started from zero," Kadam recalls. "There was no equipment, no uniforms – we put chappals over our forearms to serve as kicking pads." But the kids were interested. "For me it was a way to keep them focused, disciplined and motivated after school, when parents are at work and young teens tend to wander into the wrong habits."
Kadam now coaches 80 slum kids in addition to his job as a PE teacher at an ICSE school in Andheri. "The slum kids are easily more driven," he says. "About 90% aren't interested in academics but realise that this is a skill they can excel in and use to get ahead."
He's also taught them to play the Puneri Dhol so their troupe, Sri Garjana, performs at events and raises funds to buy equipment and help out the odd student. His girl students have shone at state-level competitions; one team placed second at the Mayor's Cup earlier this month. "I'm from the slums, I know how hard it is to get out, get a degree and find a proper job," he says. "I only hope that taekwondo can help other kids do the same."
Kadam is raising funds on the crowd- funding platform Milaap, to develop infrastructure for the sport in the slums, buy equipment, and meet competition entry, players' nutrition and travel expenses.
You can contribute here: milaap.org/fundraisers/jaydeep-kadam
Close Story