Navi Mumbai land deal: Sena tells CM to come clean, BJP's Lad files suit against Congress leaders
Shiv Sena slams CM Devendra Fadnavis on Kharghar deal in its 'Saamana' editorial, following allegations made by Congress earlier this week.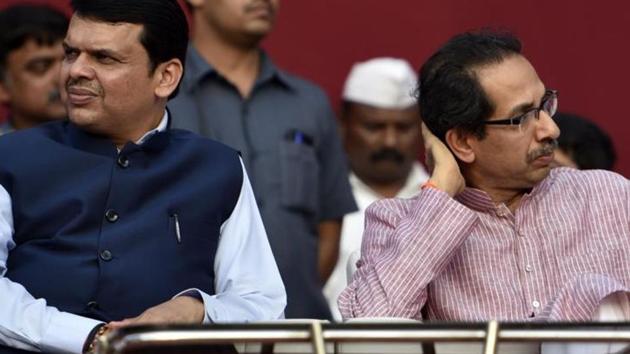 Updated on Jul 04, 2018 05:08 PM IST
Even as the Shiv Sena took on Chief Minister Devendra Fadnavis over the alleged scam involving a 24-acre plot worth Rs1,700 crore in Navi Mumbai's Kharghar on Wednesday, Bharatiya Janata Party (BJP) MLC Prasad Lad filed a Rs500 crore defamation suit against Congress leaders for making baseless allegations against him involving the same land deal.
The allegations were made by the Congress earlier this week, before the start of the monsoon session of the state legislature on Wednesday.
According to the Congress, the Fadnavis-led BJP government helped a private builder "illegally acquire" 24 acres of Cidco-owned land in Kharghar by giving it to families displaced by the Koyna power project and allowing them to sell it, though it is not permitted as per rules.
The builder in question, Manish Bhatija of Paradise Builders, is close to BJP MLC Prasad Lad, and has purchased the land for a mere Rs3.6 crore.
Lad has sent a legal notice to Congress leaders Prithviraj Chavan, Randeep Surjewala and Mumbai Congress chief Sanjay Nirupam. The charges against him are politically motivated, he said.
In the meanwhile, the Sena demanded that Fadnavis either "come clean" on the scam or re-induct former revenue minister Eknath Khadse in the Cabinet.
"Khadse was asked to resign after a land scam because he [Fadnavis] wanted to run a clean, transparent administration. Now, Khadse will have to be inducted back in the Cabinet, or the chief minister must come clean before the people of the state," the Sena said in an editorial in its mouthpiece 'Saamana'.
Khadse, once a key minister in the Bharatiya Janata Party-led government, was forced to quit in June 2016 over allegations that he had misused his office to facilitate a land deal made by his family.
The scam will be the main issue for the Opposition in the monsoon session, the editorial proclaimed.
The Sena also wanted to know "on whose pressure the scam was facilitated". "The land was meant for rehabilitation of project-affected people (PAPs), but it has been taken over by a builder now. The PAPs were given agricultural land after the government made special provisions for it. As per the rules, PAPs are not allowed to sell it for 10 years. Why were officials from the urban development department, the Raigad collector, Cidco's managing director quiet when the transaction took place?" it asked.
Responding to the Congress' allegations, Fadnavis had on Tuesday said nothing wrong had been done and that his government is willing to face any probe the Opposition seeks in this matter.
Close Story