New age Gujarati cinema sets industry on revival course
Gujarati films are enjoying a revival as producers explore new themes to cater to an audience that is getting more urbanised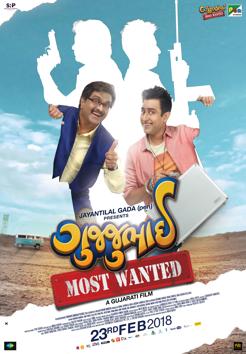 Published on Feb 11, 2018 11:56 PM IST
Hindustan Times |
, Mumbai
Yesha Kotak
When Gujarati film Chal Man Jeetva Jaiye was released six weeks ago, it didn't make waves in Gujarat. However, the same movie was being screened in 40 multiplexes across Mumbai until last week. It was only after the movie did well in Mumbai in the first week, it did well at the Ahmedabad box-office in the second week following word-of-mouth publicity.
Another film Gujjubhai The Great, which was adapted from the play Gujjubhai, has become a franchise with a sequel scheduled for release later this month.
Gujarati films are enjoying a revival as producers explore new themes to cater to an audience that is getting more urbanised. Till the end of 2010, most Gujarati movies were primarily made around rural and social themes, wherein the lead actor was shown wearing a kediyu, a traditional dhoti and turban, and dancing to garba songs. But the past few years can be termed as the "new age" for Gujarati cinema, with new concepts, fresh faces and better techniques making inroads.
"Till the end of 20th century, there have been famous producers who haven't liked a Gujarati movie just because it didn't have garba in it. Producer Vipul Shah had made a movie Dariya-Chhoru in the late 90s, which I liked. But a producer questioned him because there was no garba sequence in it," said Rasik Dave, an actor.
But Gujarati films that have done well at the box office in the past few years, such as Chal Man Jeetva Jaiye, Gujjubhai The Great and Chhello Divas, among others, have broken the stereotype associated with Gujarati cinema. Instead of portraying a family that stays in a village, these stories revolve around youngsters and families in urban setup.
People who are part of the Gujarati entertainment industry or associated with it attribute this change to the changing socio-economic scenario, owing to which Gujarati cinema had to change or perish.
"Even when Gujarati movies were made in colour, the storyline and content was simply recycled from black and white days. But as time passed, the taste of people changed. Middle class families of 70s and 80s are not the same as those of today. The so-called white collar had stopped going for movies after 70s. To appeal the changing taste, one had to make movies which are on par with Bollywood," said Niranjan Mehta, a veteran in Gujarati cinema and theatre.
Observing the 85 years of Gujarati cinema, Mehta said he had seen a tremendous change in the technology used in cinema lately and a drastic increase in the budget. However, film-makers still fail to recover the cost.
Siddharth Randeria, who plays Hasubhai in Gujjubhai The Great and co-produced the film, said while there are Marathi movies like Sairaat that cross Rs100 crore and Punjabi movies that make anywhere between Rs30 crore to Rs50 crore, only a handful of Gujarati movies manage to rake in Rs20 crore. Most Gujarati movies are made at a budget of Rs3 crores, excluding the publicity, marketing and distribution.
"Though Gujarat government provided subsidy to film-makers untiltwo years ago, the model in Gujarat has changed and is now similar to that in Maharashtra. So producers make the movies assuming that they are not going to get any money from government," said Randeria.
But the industry is unequivocal if its wants to bring Gujarati cinema on par with other regional cinema, then it was the artist had to work towards it rather than relying on government to provide funds. Which is why some of these artists who had earlier associated themselves with theatre are now donning various hats such as that of director, actor, producer and writer, while they take a plunge in cinema.
Dharmendra Gohil, who played the role of Vasant in the movie Chal Man Jeetva Jaiye, said that the Gujarati movie industry is in a phase where the makers needed to experiment with the content to get audience to the theatre.
"Technically, we are improving. However, content wise we have a long way to go. We have a rich folk culture. We can experiment with that instead of blindly following Bollywood. After Chello Divas, we had around 250 Gujarati movies which were being made on similar lines. But after 10 of them tanked at the box office, the others stopped production," said Gohil.
"Gujarati movies didn't do big business until 10 years ago, but it is the youngsters who have taken the mantle of changing the trend. I feel that the standard of Gujarati films is now on par with Hindi movies," said Deepak Somaiya, owner, Theatrix Advertising.
Youngsters such as Riddhi Dave, who has been associated with Gujarati theatre for more than a decade, have now moved to Gujarati television. They are not only excited to watch Gujarati films, but also want to be a part of it.
"Like any other Gujarati youngster in Mumbai, I grew up watching Bollywood movies and Gujarati plays. But the changes that are taking place in the [Gujarati film] industry are making youngsters aware of our culture and that makes me feel proud," said Dave.
Close Story
Personalise your news feed. Follow trending topics