Pest attack has killed crops and hopes of 41 lakh farmers in Maharashtra
Hindustan Times |
, Amravati/aurangabad
Ketaki Ghoge and Surendra Gangan
Feb 14, 2018 01:30 PM IST
Cotton crop devastated by pink bollworm attack, the worse outbreak since genetically modified seed technology has been adopted
As many as 41 lakh farmers in Maharashtra, from the agrarian-distressed regions of Marathwada and Vidarbha, began the new year with loss and misery.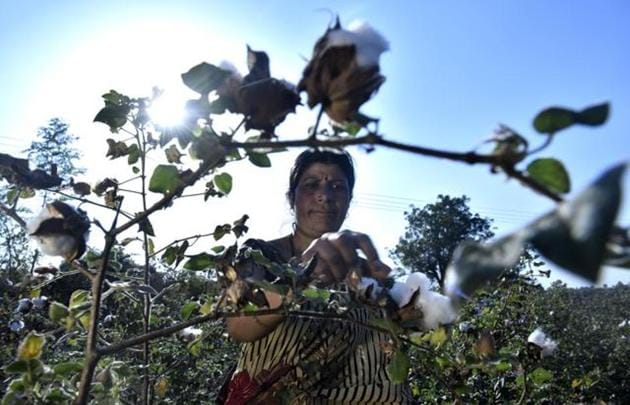 This was more than evident in December last year, when it became clear that the state's cotton crop had been devastated by a pink bollworm attack, the worse such outbreak since the state adopted BT or genetically modified (GM) seed technology in 2002.
Hindustan Times will carry a five part series starting Wednesday, on the plight of the cotton farmers to highlight the human faces behind this disaster, besides examining the reach of the state government in tackling this crisis and the role of other stakeholders.
Information collected on the ground by the divisional commissioner's offices in Nagpur, Amravati and Aurangabad and reported to the state government in January ( accessed by HT), revealed the extent of the damage. The pink bollworm pest affected 32 lakh hectares of cotton-sown land in these two regions. Nearly 14.91 lakh hectares of such land in Vidarbha and 17.25 lakh hectares in Marathwada was destroyed in the outbreak.
Nearly 41 lakh farmers — 26.90 lakh from Marathwada and 14.16 lakh from Vidarbha — who cultivated cotton, suffered more than 33% losses in this outbreak.
This also means that on an average, two crore people living in rural areas and dependent on these 41 lakh farmers, are staring at a year with a substantially slashed or no farm income until the kharif harvest in 2018. The attack poses several challenges for both the distraught farmers as well as the ruling government.
Farmers face an uphill task to get access to credit for the next kharif season. Several farming families will have to sacrifice their children's education or a wedding until the tide turns.
The government will have to deliver on its promised compensation of Rs30,800 a hectare, besides planning a road map ahead, with pink bollworm now proven to be resistant to BT cotton (It is used by more than 96% of state's farmers).
This is no mean task, given that seed companies are unwilling to fork out damages to farmers as proposed by the state and want the technology provider to be held responsible for the loss.
"This pest attack is unprecedented and we are looking at a year of agrarian misery for the cotton farmers. The situation is bleak, especially for rain-fed farmers, who count on cotton as their main cash crop and the only crop in many cases. This will lead to a spurt in farmer suicides and I will hold the government responsible unless it delivers on the promised compensation,'' said Kishore Tiwari, chairman of the Vasantrao naik Shetkari Swavlamban Mission. The mission was set up to recommend suggestions to improve the lot of farmers in the 14 suicide-prone districts in these two regions.