Pitru Paksha: A hiatus to the festivities
Published on Sep 19, 2016 02:27 PM IST
Pitru Paksha is a 15-day period which falls in the Hindu lunar month of Bhadrapada (September-October), beginning full moon day called Purnima Shraadh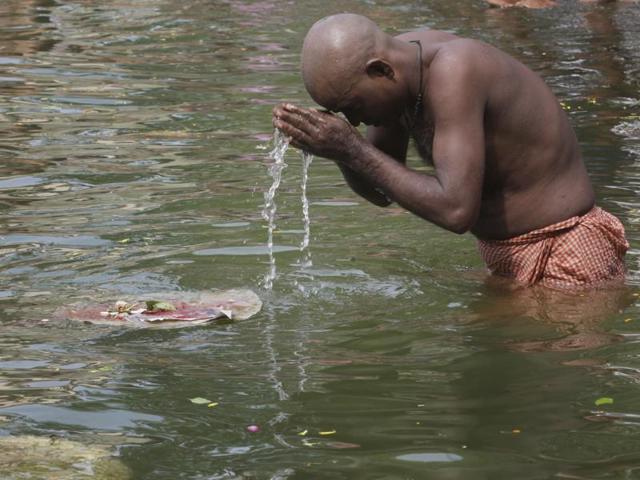 Hindustan Times |
, Mumbai
Akash Sakaria
A 15-day Shraadh Paksha or Pitru Paksha, a fortnightly obeisance period of remembering the departed ones, has brought a brief halt to the ongoing festive season in Mumbai.
Pitru Paksha is a 15-day period which falls in the Hindu lunar month of Bhadrapada (September-October), beginning full moon day called Purnima Shraadh. The period occurs immediately after the conclusion Ganeshotsav and ends with the new moon day, Sarvapitru Amavasya.
Raghu Shastri, a priest at a Borivli temple, said, "Hindus who perform the ritual fast on these days. They also offer food to us (the priests), which they believe will deliver salvation to the souls of their ancestors. Devotees offer kheer (rice pudding), lapsi (wheat dessert), rice, dal and pumpkin to the pujaris."
Shastri also explained the importance of Tarpan ritual performed during this period. "The ritual is a way of paying respects to the departed souls and thanking them for the well-being of the present generation. It is also a means to convey a message that they are still a part of the family," he added.
The priest said that people avoid starting a new business or getting married during Pitru Paksha. "Legend has it good things initiated during this period fail to take off. Celebrations is one thing, culture and tradition is another," he said, adding, "Besides, celebrating all the time is also not good. We should also spare time to thank our ancestors for laying a strong foundation for our generation."
Kewal Parpani, a manufacturer of women's apparels, said the Shraadh period has a huge impact on the business. "At least textile industry has to bear the brunt during Pitru Paksha. We devote this blank period to innovation and upgradation of our merchandise. This period, besides thanking our ancestors, also gives us time to rethink on our follies in our business techniques, if any," he said.
The Pitru Paksha, which commenced on September 16, will continue till September 30. This will be immediately followed by Navratri, the first of the several festivals to follow.
Personalise your news feed. Follow trending topics