Post 26/11, this is the security ring that keeps Mumbai safe
Sep 23, 2016 12:08 PM IST
Mumbai is on high alert after suspicious gunmen were spotted by school children near a naval unit in Uran, in Raigad district. We look at how Mumbai has been guarded by Indian Navy, Indian Coast Guard and Mumbai Coastal Police post the 26/11 terror siege.
Security forces across Mumbai scrambled to full alert after some school children reported that they has seen 'suspicious' men near a naval unit in Uran.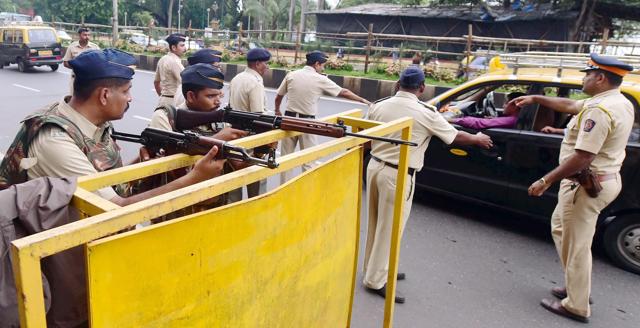 Uran, which lies east of Mumbai in Raigad district, across Dharamtar creek, is important because it is home to the Jawaharlal Nehru Port trust , an Oil and Natural Gas Corporation plant; a naval base and an arms depot. Mumbai has been on high alert since yesterday and search operations are still underway.
Soon after the 26/11 terrorist attack various agencies collaborated to figure out potential landing points across Mumbai. According to the Mumbai police, there are 66 landing points across Mumbai.
Here's how Mumbai's coast has been guarded since the 26/11 terror siege exposed the chinks in the city's security.
INDIAN NAVY
After 26/11, the Navy was made the nodal agency for 15 central agencies and state agencies to co-ordinate coastal security. The Navy now forms the first line of defence and is on constant alert monitoring the sea through aerial surveillance and patrol from 22 nautical from the coast.
The navy's Western Naval Command is headquartered in Mumbai and includes:
INS Angre – Provides shore-based logistics and administrative support for the Command. It is like a mother ship that controls and oversees the functioning of a wide array of diverse units and facilities.
INS Shikra – Strategic Helicopter gun ship base of Indian Navy
INS Aswini – Naval Command Hospital
NOFRA - Naval Officers Residential Area, which includes the Naval Transport Pool, Naval Dockyard, Indian Naval Sailors Home 'Sagar' and INS Abhimanyu - MARCOS base (at Uran)
INS Hamla – Logistics training establishment
INS Agnibahu – missile boat base
INS Trata – Missile battery base
Mazagon Docks Limited
INDIAN COAST GUARD
The Indian Coast Guard is one agency that has undergone dramatic changes since 26/11. With a mandate to patrol the sea between 12 nautical miles and 22 nautical miles from the coast, Coast Guard has state-of-the-art weaponry and equipment. It has also augmented its air and surface fleet to a large extent.
MUMBAI COASTAL POLICE
The third tier of security continues to be the weakest link as the state government continues to neglect coastal security. Mired in red tape, delays and lack of knowledge of how to operate at sea, Mumbai's coastal police needs radical changes if it has to effectively patrol the sea up to 12 nautical miles from the coast