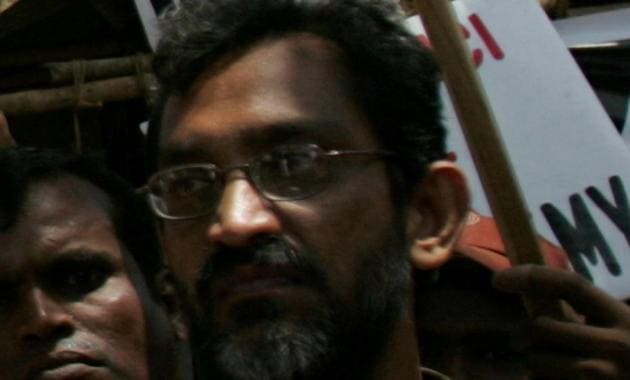 Rs2.2 crore fraud: NGO founder, 5 others chargesheeted
The victim, who is now dead, had donated the money to the trust formed by the accused for building of an old age home
Hindustan Times | By Vijay Kumar Yadav
, Mumbai
PUBLISHED ON APR 02, 2018 12:03 AM IST
The Economic Offences Wing (EOW) of Mumbai police has chargesheeted Joseph Dias, founder of Catholic Secular Forum (a community NGO), and five others for allegedly duping an elderly citizen of Rs2.2 crore.
The victim, who is now dead, had donated the money to the trust formed by the accused for building of an old age home. But the accused misused the funds.
An officer privy to the investigation said the EOW's general cheating unit-2 recently filed a 1,000-page charge sheet against Dias, his wife Fatima, Allen D'silva, Joe D'silva, Divakar Gatti and Shailesh Mhadik. The case was registered in 2014 based on a complaint filed by Conrad Patrik Saldanha of Jeevan Data Trust. All six accused were booked under sections 420, 406, 465, 468, 471 and 120-B of Indian Penal Code.
According to EOW, Joseph met Paulita D'souza in 2010 through Dias. Officers said it was Dias who requested Joseph to negotiate a redevelopment project related to the elderly woman's house that was stuck owing to various reasons.
Later, Paulita told Joseph she wants to use Rs2.2 crore to build an old age home. Saldanha told Dias about the project, who then proposed forming a trust to construct the home. Dias also proposed seeking Allen D'silva's help to form the trust.
On Sept 24, 2010, Joseph, Fatima and Allen met Conrad with a trust deed nominating him as the managing trustee and naming the trust as Jeevan Daata Trust. Paultia then issued cheques in the trust's name in September 2010.
Joseph had told Conrad they would sign a contract with Sterling Construction Systems Pvt Ltd, owned by Joe D'silva, to liaison for a land in Neral for building the old age home. On Sept 30, 2010, an RTGS of Rs2.19cr was issued in favour of Sterling Construction.
After the money was transferred, Joseph and others started avoiding Conrad and allegedly kept giving reasons for the delay in starting the project, the police said.
Paulita died in July 2012 after which Conrad again checked with Joseph inquired about the old age home, but to no avail. Upon realising that Joseph may have cheated them, Conrad filed a police complaint in 2014.
Conrad said, "I was offered money to keep mum. But I stood my ground. The accused never intended to use the money to build an old age home."
An EOW officer, part of the probe, said, during investigation they collected sufficient evidence, which they attached in the charge sheet that as filed against the accused in the magistrate court a few days ago.
Rubbishing the allegations levelled against him, Dias said, "The complaint was filed against us owing to our complaints against a bad priest, Father Conrad Saldanha. We secured bail years ago with the order that the matter could be a civil case as Father Conrad was also signatory and was demanding money from us. I got clean chit from the police every time. This time also we will fight the allegations and emerge victorious. We trusted Father Conrad Saldanha, but his intentions and actions were dubious. He was the managing trustee and gave the money to the developers for an old age home. The developers made several offers in the court, but he refused making unreasonable demands. We will fight it out. We are moving high court to clear our names, as charges against us seem to be politically motivated."
Close