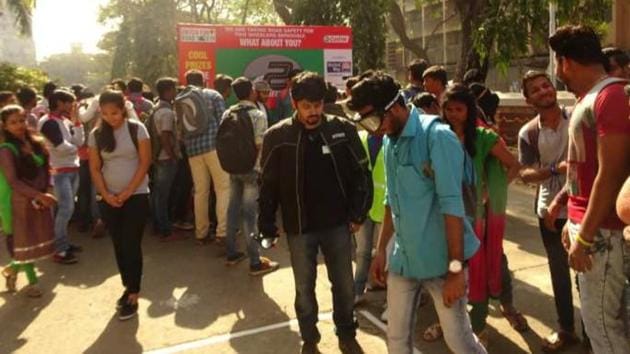 Say no to drink driving, yes to a safe ride, Mumbai university tells students
The campaign titled 'Two Wheels One Life' aims to actively engage and educate college youth towards responsible and safe riding practices. 
PUBLISHED ON FEB 13, 2017 09:07 AM IST
How risky is drink driving? Sushant Berde, a second year B Com student at Mahatma Night Degree College at Chembur, got his answer when he was made to walk on a straight line while wearing goggles that simulate the experience a person has under the influence of alcohol. "When I took the glasses off it occurred to me that I didn't quite follow the line. It was an eye opener," he said.
The activity is part of a campaign being jointly run by United Way Mumbai, an NGO, and National Service Scheme (NSS) Cell of the University of Mumbai. The campaign titled 'Two Wheels One Life' aims to actively engage and educate college youth towards responsible and safe riding practices.
"The students are being taught how to drive skilfully so that they don't create nuisance for other commuters. We are also encouraging them to adopt road safety measures such as wearing a helmet while riding motorcycle," said Babasaheb Bidwe, NSS coordinator, MU.
The initiative comes in the wake of the recent accident on the Mumbai-Goa Highway in which seven youngsters were killed while one was seriously injured. The accident occurred on Wednesday morning as the youths were travelling from Mumbai to Sindhudurg district. Police said the driver had lost control on the car and rammed it into a tree near Khanu village.
"We are focusing on youth and two-wheeler riders because the young population is at risk. Two-wheelers are involved in over 28% of fatal road accidents and over 40% of deaths caused by these accidents have people aged between 15 and 35 years," said Ajay Govale, director, community impact, United Way Mumbai.
The organisers install kiosks and create an activity zone in the college and raise awareness on road safety through various fun activities. One of the activities is snake and ladders game. The organisers create a 6x6 sq ft replica of the popular dice game on the floor and the students make their way through the blocks. The snake bites represent the traffic violations, whereas the ladders represent the incentives for adhering to traffic rules.
As part of the campaign, the students also sought to sensitize the motorists on the road. They approached motorists on the road and quizzed them on traffic rules. The correct answers were rewarded with small gifts. The students also distributed complimentary reflective stickers and a leaflets on road safety.
So far, the organisers have installed road safety kiosks in eight city colleges and plan to do it in 12 more colleges. Around 2,400 students have participated in these activities. Another 300 are expected to participate in various road safety themed competitions, such as short-film making, poster designing and street plays.
"Most of the college students are on the verge of receiving their driver's licence. At this age, they are also exposed to alcohol. Hence, we want to ensure that they are educated about road safety early," said Govale.
READ MORE
7 killed, 1 hurt as speeding car rams into tree on Mumbai-Goa Highway
Mumbai-Goa highway accident: 'Mothers yet to find out their sons are dead'
Close