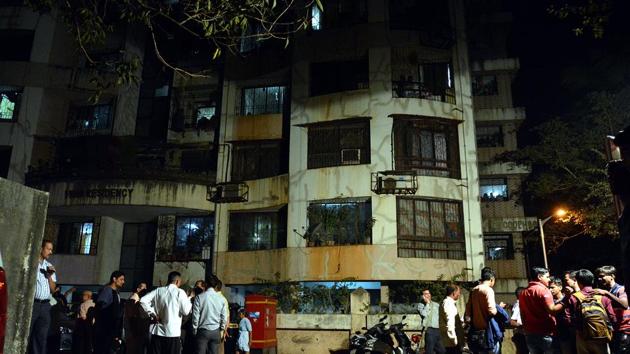 Mumbai-Goa highway accident: 'Mothers yet to find out their sons are dead'
The car in which they were travelling crashed into a tree in Ratnagiri around 7.30am.
UPDATED ON FEB 09, 2017 12:55 PM IST
For residents of Shivaji Nagar in Vile Parle, the news of the death of seven men from their locality on the Mumbai-Goa highway on Wednesday, has come as a shock.
The car in which Sachin Sawant, Prashant Gurav, Akshay Kerkar, Nihal Kotiyan, Kedar Tondkar, Vaibhav Manve, Mayur Belnekar and Abhishek Kambli were travelling crashed into a tree in Ratnagiri district around 7.30am. While Kambli survived, others succumbed to their injuries. "Mothers of some of the youngsters don't know they have passed away," said a local resident, staying in Gurav's chawl.
Bala Sawant, a local resident, said, "I saw them leaving in the car at 11.45pm on Tuesday. We are shocked to hear that they are no more."
Kerkar had purchased the second-hand car less than six months ago. "He was not willing to go. His friends convinced him to change his mind," said a neighbour.
Residents remember each of them fondly as members of a group that organise annual trips to Shirdi. "They had arranged for a trip in December. They would ensure everyone travelled safe," said Abhishek Sawant.
Belnekar's mother runs a tiffin service, while he worked as an office boy. His father is suffering from a prolonged illness, neighbours said. Kerkar and Gurav were both make-up artists. Kerkar was the youngest of three brothers. Gurav is survived by his mother and a sister. His father died three years ago.
Sawant, who worked with a shipping firm, got married two years ago. Manve worked in an insurance company while Kotiyan worked with Mumbai Metro.
The bodies are expected to reach Mumbai on Thursday.
Read
7 killed in accident on Mumbai-Goa highway
Mumbai-Goa highway sees 1,000 accidents a year
7 killed, 1 hurt as speeding car rams into tree on Mumbai-Goa Highway
Close