Mumbai-Goa highway sees 1,000 accidents a year
In 2015 alone, 174 people died in 1,088 accidents and over 2,000 people were injured.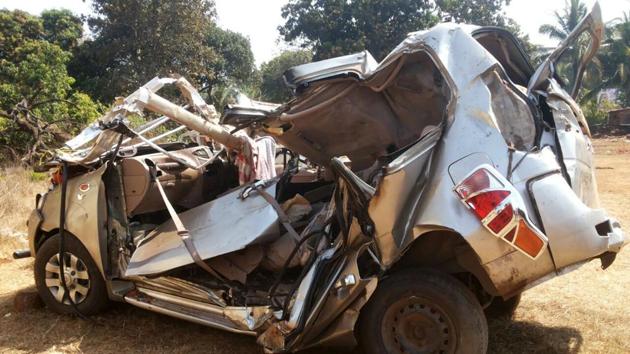 Updated on Feb 09, 2017 10:07 AM IST
The death of seven people after the car they were travelling in crashed into a tree on the Mumbai-Goa highway in Ratnagiri has once again raised a question on the safety of motorists on the busy road.
According to the police, 1,000 accidents take place on this road every year on an average. In 2015 alone, 174 people died in 1,088 accidents and over 2,000 people were injured.
In May last year, seven people, including an eight-year-old boy, died after their car rammed into a bus on the highway near Mangaon in Raigad.
Several accident-prone areas on the stretch have been identified by the police, but according to a source, the government has done nothing to make the road safer. After conducting a survey, the Raigad police identified as many as 55 extremely dangerous areas and have written to the state. They are yet to get a response from the state.
The police said most accidents take place because of speeding. "The motorists drive at a high speed and lose control of their vehicles most of the time. Many of them do not wear seat belts. The absence of streetlights has also been identified as a reason behind frequent accidents," said Vijay Kadvane, police inspector of Panvel traffic unit.
"Another reason for accidents on this road is the expansion work. Because of the road-widening project, certain stretches have turned into bottlenecks. Apart from creating traffic issues, these areas have become virtual death traps for motorists," said a senior police officer from the Raigad traffic department. The pace of the work is also extremely slow, according to a source.
The National Highway Authority of India is widening the road by demolishing structures on either side. Because of this project, the breadth of the road has been reduced posing more threat to the motorists.
"The road, which has no dividers, is narrow at several places and there are sharp turns just before or after these patches have made them accident-prone areas. Lohar Mal is one such area that has seen several accidents in the past one year. Some other places are the Lonere stretch, Sukheli village, Pui village that see accidents almost every other day," said Manoj Mhatre, traffic in-charge, Raigad district.
According to Mhatre, most accidents take place when drivers try to overtake each other. "Owing to the absence of a divider, drivers end up colliding with vehicles coming from the opposite direction during an overtaking manoeuvre," he said.
Read
7 killed, 1 hurt as speeding car rams into tree on Mumbai-Goa Highway
Close Story
Personalise your news feed. Follow trending topics