Sewage that Mumbai pumps into sea is filled with pharmaceutical drugs: IIT-B study
May 26, 2017 02:16 PM IST
Mumbai city news: The sewage that Mumbai pumps into the sea has high concentration of pharmaceutical drugs that are potentially disastrous for aquatic life
The sewage that Mumbai pumps into the sea has high concentration of pharmaceutical drugs that are potentially disastrous for aquatic life, a first-of-its-kind study led by the Indian Institute of Technology – Bombay (IITB) revealed.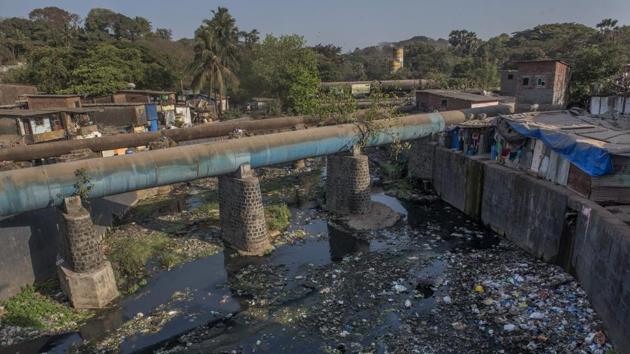 The source of the untreated pharmaceuticals discharged first into the sewers and then waste water treatment plants (WWTP) are households and hospitals.
"When we consume any medicine, 30% is absorbed by the body, and about 70% gets excreted that goes into the sewerage treatment plants. But these treatment plants are not designed to treat medicines," said Sanjeeb Mohapatra, co-author, and doctoral student, Centre for Environmental Science and Engineering, IITB.
"Elevated levels of pharmaceuticals entering the creek before ultimately reaching the sea can affect aquatic life, and humans in the long run." Mohapatra said. For the study, the four-member team selected 12 commonly used pharmaceuticals from an initial list of 72 for seasonal monitoring at two WWTPs in the city. Results showed that the average load of pharmaceuticals on reaching the two treatment plants was 537 microgram per litre (ug/L) and 353 ug/L. In comparison, pharmaceutical concentrations in two similar WWTPs in the US — also part of the study — were found to be 50% less than Mumbai's.
At present, there are no permissible limits set for the presence of pharmaceuticals in waste water in India or the US.
On treatment, 59% pharmaceuticals were removed before being released into the creek in the lagoon-based WWTP, while the advanced WWTP eliminated 85% pharmaceuticals. The US-based WWTPs were more efficient at removing pharmaceuticals at 10%-30%.
Researchers have attributed an increase in the intake of pharmaceutical drugs to growing incomes and consumption patterns resulting in a rise in lifestyle diseases.
"Easy availability of medicines over-the-counter at pharmacy stores is another reason. For instance, earlier people would be willing to bear a headache. Today, the moment one gets a headache, he or she will pop a pill to get instant relief," Lokesh Padhye, co-author, and senior lecturer, department of civil and environmental engineering, University of Auckland, New Zealand, told HT.
"High pharmaceutical concentrations and can aid in development of antibiotic resistance in bacteria, also called superbugs."
With medicines targeted for different organs of the body, researchers said humans need higher concentration of medicines as compared to fish or any other aquatic form of life.
"Such high concentration of pharmaceutical drugs when released into the water body acts as a poison for aquatic life and is carcinogenic. Some of these drug compounds can remain in fish tissues. When we consume fish, these compounds can get transferred to human tissues," said Mohapatra.
Previous studies, as stated in the paper, have shown that concentrations of some pharmaceuticals can adversely affect phytoplankton and algal growth, cause reproductive defects in aquatic wildlife including sex reversals, production of intersex individuals, alterations in mating, and prevention of gonadal maturation.
"There is a need to upgrade existing waste water treatment facilities around the country so as to be able to treat pharmaceuticals and other emerging contaminants before effluents are released into the environment. As compared to Mumbai which has the sea, the situation is more worrisome for inland cities across the country," said Padhye.
With treated wastewater not released into rivers in Mumbai, co-author and IITB professor Suparna Mukherji said the possibility of contaminating drinking water sources is relatively low.
"But many of the pharmaceuticals can have adverse effect on health of living organisms. Some are known to have endocrine disruptive (ED) effects where they affect the production of natural hormones," said Mukherji.
Mukherji added, "If pharmaceuticals are present in our drinking water they can have chronic toxic effects when contaminated water is consumed over several years. They have been linked with increased cancer risk, increased incidence of birth defects, early onset of puberty, obesity and attention deficit disorder